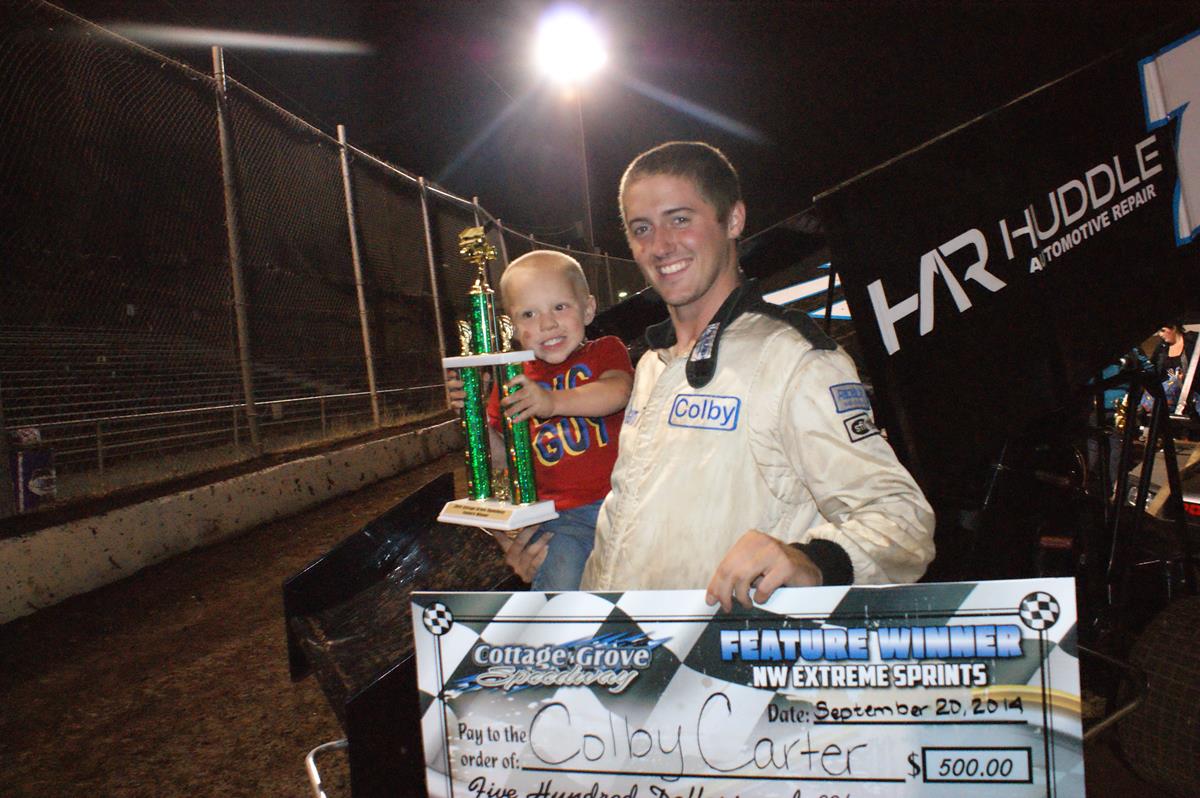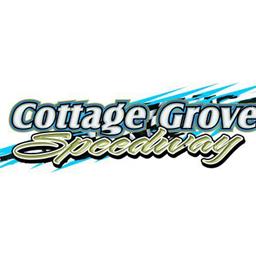 9/23/2014
Cottage Grove Speedway
---
Carter, Hanson, And Jenkinson Pick Up Championship Night Wins At CGS; Three Champions Crowned
Carter, Hanson, And Jenkinson Pick Up Championship Night Wins At CGS; Three Champions Crowned
By Ben Deatherage
(Photo Courtesy of Dirt Monkey Productions)
Cottage Grove Speedway would host the final point race of the 2014 season on the ¼-mile Saturday September 20th. Three championship classes were on tap including the BC Motorsports Northwest Extreme Sprint Cars, IMCA Modifieds, and Hornets as well as the Old Time Racers of Oregon (OTRO) organization. The winner of the OTRO main event would be won by Troy Gasner of Roseburg.
In the BC Motorsports Northwest Extreme Sprints Dusty Redmond of Roseburg was very fast in the main event. Redmond, piloting the Redmond Trucking/Whit-Log Trailers #57 Rocket, would blaze the trail in the first half. With cautions taking place several times it would constantly bunch up the field.
Cottage Grove's Colby Carter would track down Redmond and make a pass for the top spot in lapped traffic. Carter then would go on to lead the rest of the distance to capture the victory for him and the Huddle Automotive Repair/Steelhouse Metal Roofing Supply/Oregon West RV/Hedge Carter Gutter Service/Royal Flush Environmental Services #71 team.
Dusty Redmond was second followed by Medford native Dave Hibbard in third driving the C&H Motorsports/Tangible Real Estate Investments/Dave's Carpet & Vinyl Liquidators/Southern Oregon Veterans Benefits #3 Zeitler. The Redmond Trucking #12 J&J of Orion Redmond, Dusty's son and also from Roseburg, was fourth while Sedro-Woolley, Washington's Cory Swatzina was fifth in his Carl's Towing/Skagit Valley Polaris/D.K. Systems/Shark Racing Engines #2 machine. Dave Hibbard would be declared the 2014 BC Motorsports Northwest Extreme Sprint champion when it was all said and done.
The IMCA Modified feature would be a battle from start to finish. Despite several cautions taking place a great battle would occur between Jason Kocks and Craig Hanson. The two veteran drivers would battle back and forth side by side for not just one lap but the final twelve. Hanson would end up the victor after the checkered flag was dropped to pick the triumph for him and the Virgil Hanson Automotive Machine/BSB Manufacturing/KGAL-KSHOW Radio/James Gang Pizza #33C Shaw.
Jason Kocks of Creswell was a respectable in his Curt Deatherage Auto Electric/Riviera Barber Shop/Mid-Valley Waterproofing/Grant Springer Racing Engines #45 S.D.M.F. and Klamath Fall's Nick Trenchard would park the Rich and Nicky Biehn owned Biehn Racing/Air Gas/Natures Images/Lithia Dodge-Toyota of Klamath Falls #54N Shaw in third. The rest of the top five would comprise of Gus Cooper from Creswell in his Eastside Rollforming Specialties/BBQ Oil Barbeque Sauce/Raceprint.com #10 Pro was fourth and the Furniture Options #84 machine of Jasper's Eric Ashley in fifth.
A consolation feature was ran due to the massive car count with Braedon Hand of Cottage Grove picking up the win in the Todd's Auto Body/D&D Automotive/1400 KNND AM/Vintage Inn Family Restaurant #5 Shaw by S.D.M.F. Braedon Hand would also secure his fifth career championship at CGS and his second straight season he has won the crown.
Last but not least the Hornets would be a main event of good battles taking place. Josh Corley of Westfir and Marcola's Dan Jenkinson were the two drivers to duke it out for much of the race. Jenkinson would eventually secure the lead and pulled away from the rest of the field to win his first victory in his Dan's Automotive/South Valley Automotive #4 Nissan 200SX.
Josh Corley was second in the Bigg Dogg Recycling/All Around Landscaping #NE1 Mitsubishi Mirage followed by Chris Pierce of Cottage Grove in his Froggy's Towing/Bigg Dogg Recycling/Meineke Car Care Center/AP Media #28 Chevrolet Cavalier in third. The Randy Kuhl owned Bigg Dogg Recycling/More Of Everything Racing Collectibles/DT Machine & Fab/Big B Tire #17 Toyota Tacoma of Dexter's Taunton Swaim was fourth and Jayson Nelson from Springfield in his Quality RV Repair/Springfield Automotive Specialists #51 Honda Intergra in fifth. Chris Pierce would pick up the title after all the action was in the books.
One event remains on the 2014 calendar and that is the final Kage Kart race of the season on Friday September 26th. General admission to the Kart race on Friday will be FREE of charge. Pit Passes are $10.00 and Car and Driver fees will be $35.00. The Pit Gate will open up around 3:00 PM and the Pit Meeting is at 6:00 PM with Hot Laps and Racing to follow.. For more information log on to www.cottagegrovespeedway.com.
---
Submitted By: Ben Deatherage
Back to News