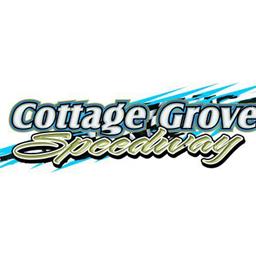 9/25/2014
Cottage Grove Speedway
---
Friday September 26th CGS Kart Race Cancelled Due To Wet Weather
Friday September 26th CGS Kart Race Cancelled Due To Wet Weather
By Ben Deatherage
Cottage Grove, Oregon- Unfortunately the Cottage Grove Speedway Kage Kart Championship Night scheduled for Friday September 26th has been cancelled due to weather. The last few days there have been some severe rain storms which saturated the grounds including the pit area. This will officially bring a close to all scheduled events at CGS in 2014 and we would like to officially congratulate the champions in their respective divisions listed below.
Be sure and keep an eye on the website in regards to information pertaining to the 2014 Kage Kart banquet as well as the 2015 schedule. For all the latest information about Cottage Grove Speedway log on to www.cottagegrovespeedway.com.
2014 Cottage Grove Speedway Kage Kart Champions
Pee Wee- Jayden Trupp
5HP Intermediate- Austin Sause
125cc- Kyle Roles
250cc- Bailey Hibbard
Open Kage- Matt McDowell
---
Submitted By: Ben Deatherage
Back to News