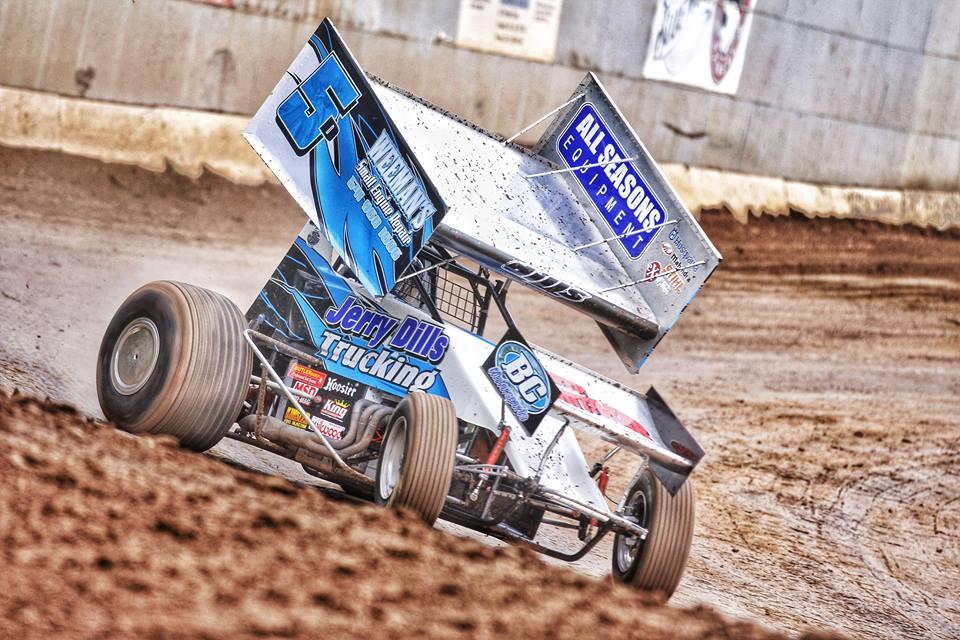 10/1/2014
Inside Line Promotions
---
Dills Records Standout Season During First Year in a Sprint Car
(Photo by Ray Hull Photography)
Inside Line Promotions – COTTAGE GROVE, Ore. (Oct. 1, 2014) – Patrick Dills exceeded his goals during his first season in a sprint car.
Dills earned four top fives and 12 top 10s in 18 races. He also finished third in the Northwest Extreme Sprints championship standings at Cottage Grove Speedway, which is the track where he grew up watching races.
"Going into the season I was expecting maybe a top five and a top 10 for sure," he said. "I definitely wasn't expecting a top three. That's great and hopefully next year we can go for a championship and a win."
Dills scored his first career top five in his fifth race and he recorded his best finish – second – twice. He also led laps during two features.
"We were able to roll the car back in the trailer each race and I didn't get involved in any wrecks," he said. "It was hard to get used to at first, but I feel like I picked it up pretty fast."
Dills said his team is hoping to get a new car next year and possibly a 360ci engine.
"I'm thinking we'll try to run the Northwest Speedweek and with the ASCS a little more," he said. "For right now the plan is to race at Cottage Grove for the Northwest Extreme Sprints championship. Whatever we do it'll be thanks to our great sponsors. I can't thank them, my dad and Jake enough for all of the help and support."
SEASON STATS –
18 races, 0 wins, 4 top fives, 12 top 10s, 13 top 15s, 16 top 20s
MEDIA LINKS –
Facebook: https://www.facebook.com/pages/Patrick-Dills-Racing/236840896439816?ref=br_tf
Twitter: https://twitter.com/PatrickDills90
SPONSOR SPOTLIGHT – Weeman's Small Engine Repair
Weeman's Small Engine Repair is owned and operated by Jacob Farmen, who is Patrick's nephew. Located in Cottage Grove, Ore., Weeman's Small Engine Repair focuses on fixing and rebuilding an assortment of small engines.
"Without Jake none of it would be possible," Dills said. "He's been my wingman throughout my career. He keeps me in check and works his heart out day in and day out to make sure I have the best opportunity."
Dills would also like to thank BC Motorsports, Jerry Dills Trucking, All Seasons Equipment, Keith Whitaker Trucking, Steel House, Bonnichsen Repair, Rocket Designs and Inside Line Promotions for their continued support.
INSIDE LINE PROMOTIONS –
Inside Line Promotions specializes in affordable public relations and media management for motor sports drivers, teams, sponsors, tracks, series, events, organizations and manufacturers. ILP Founder Shawn Miller leverages professional journalism with new media technologies and social networking to improve your exposure and the return on investment for your sponsors.
To meet the media relations needs of your program and to join Team ILP, contact Shawn at 541-510-3663 or InsideLinePromotions@gmail.com. For more information on Inside Line Promotions, visit http://www.InsideLinePromotions.com.
---
Article Credit: Inside Line Promotions
Submitted By: Shawn Miller
Back to News