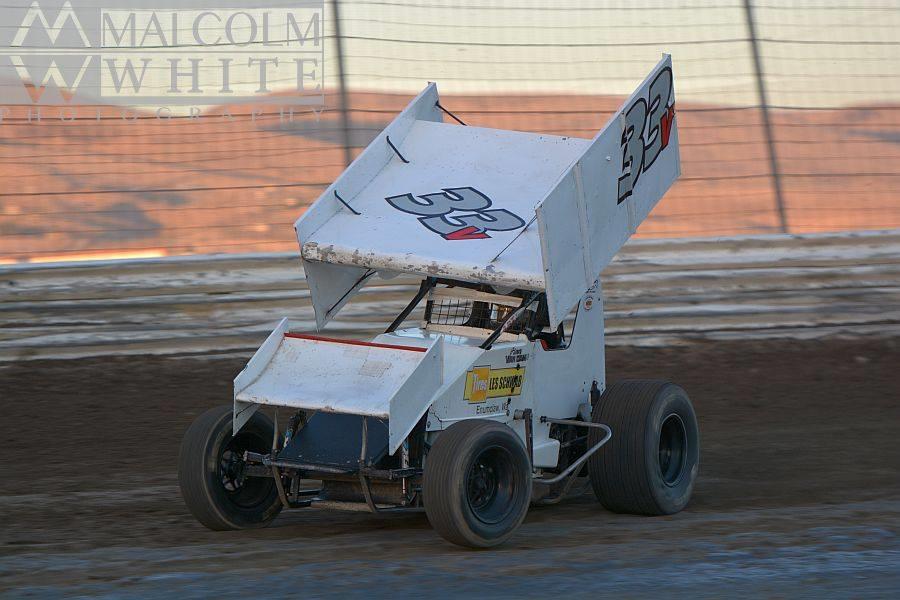 11/3/2014
Inside Line Promotions
---
Van Dam Grateful for Support Following Career-Best Season
(Photo by Malcolm White Photography)
Inside Line Promotions – ENUMCLAW, Wash. (Nov. 3, 2014) – Henry Van Dam enjoyed his career-best season in 2014.
Van Dam earned six feature wins – double his previous high in any season – and he added 14 top fives and 22 top 10s in 34 races.
"My family has been overwhelmingly supportive of everything I've done," he said. "They are there every step of the way. I've got some great sponsors that have stuck by me for a long time and continue to be supportive. It's all the people involved who continue to build this team and put us in a position to make good things happen. A big thanks goes to Luke Huizenga, who is the guy who makes everything happen behind the scenes and doesn't get enough of the credit."
Van Dam, who also set season highs of four wins at Grays Harbor Raceway in Elma, Wash. – his home track – and two victories at Cottage Grove Speedway in Cottage Grove, Ore., said his first trip to Victory Lane this season stands out the most.
"I'd say the season highlight was winning the Marvin Smith Memorial (May 31 at Cottage Grove Speedway)," he said. "That's what got everything going. It was a big win against good competition. That set the standard for the season.
"With all the effort the community put in to have that race there was a lot of excitement around it. For me to be a part of that and win it was pretty special to me."
Despite limited action, Van Dam finished fourth in the championship standings at Cottage Grove Speedway and eighth at Grays Harbor Raceway. He also led both tracks in feature wins.
Additionally, Van Dam placed eighth in the ASCS Northwest Region standings despite missing numerous events. He is the only driver to finish in the top 10 during all seven seasons the region has existed.
Van Dam said that he anticipates a similar schedule next year, which he will kick off with the inaugural Winter Heat Sprint Car Showdown Jan. 2-3, Jan. 6 and Jan. 9-10 at Cocopah Speedway in Somerton, Ariz.
"I don't have any intentions of running for points anywhere next year," he said. "This year our goal was to capitalize on each race and get the most out of each night. I think we'll follow that same thing for next year and not set standards to live to."
SEASON STATS –
34 races, 6 wins, 14 top fives, 22 top 10s, 30 top 15s, 31 top 20s
MEDIA LINKS –
Website: http://www.HenryVanDam.com
Twitter: https://twitter.com/VanDamRacing
VIDEO –
Here is a link to a video by ARRacing of Van Dam winning the Summer Thunder Sprint Series event at Grays Harbor Raceway in Elma, Wash., on June 7: http://youtu.be/a2sBRaf5l1c
APPAREL –
Van Dam has t-shirts and sweatshirts available for sale at his race trailer.
SPONSOR SPOTLIGHT – A.R.T Speed Equipment
Established in 1976, A.R.T. Speed Equipment is a parts and fabrication shop with a huge inventory of sprint car and mini sprint parts. A.R.T. also builds top-notch chassis. For more information, visit http://www.ARTspeedequip.com.
"I've been using A.R.T. chassis for the past few years and they are made with great quality," Van Dam said. "The awesome customer service I receive makes it a great company."
Van Dam would also like to thank Kovash Logging, Johansen Excavating, Enumclaw Xpress Lube, Les Schwab Tire of Enumclaw, Clems Enumclaw Powersports, Factory Kahne, Van Dam Dairy, Village Green Resort, D&L Equipment Repair, Zender Equipment, Big Bob's Flooring Outlet, Bob and Joan Shumway, Kellan and Kelsey Hall, Foothills Auto Supply, American Powder Coating, Pete Vos, Char's Barber Shop, Wesmar Race Engines, SpeedMart, Van Dam Farms and Rich Van Dam Dairy for their continued support.
INSIDE LINE PROMOTIONS –
Inside Line Promotions specializes in affordable public relations and media management for motor sports drivers, teams, sponsors, tracks, series, events, organizations and manufacturers. ILP Founder Shawn Miller leverages professional journalism with new media technologies and social networking to improve your exposure and the return on investment for your sponsors.
To meet the media relations needs of your program and to join Team ILP, contact Shawn at 541-510-3663 or InsideLinePromotions@gmail.com. For more information on Inside Line Promotions, visit http://www.InsideLinePromotions.com.
---
Article Credit: Inside Line Promotions
Submitted By: Shawn Miller
Back to News