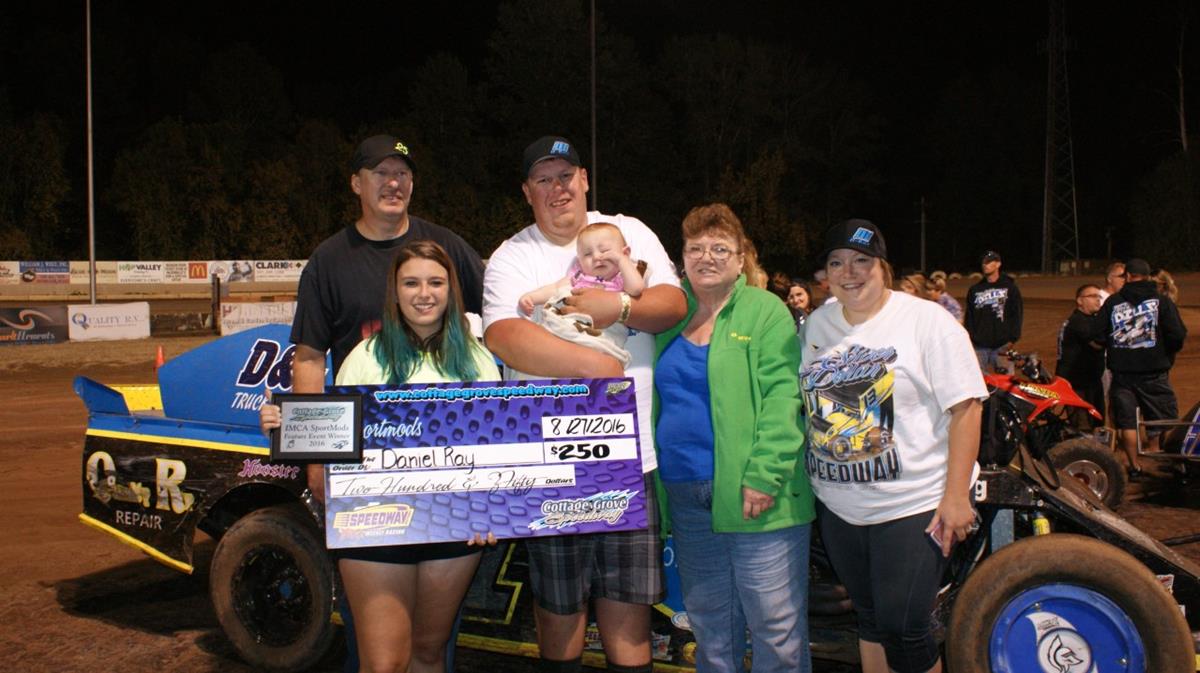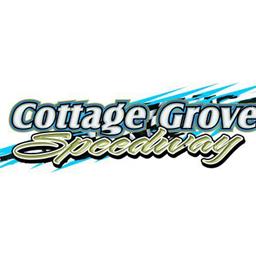 8/30/2016
Cottage Grove Speedway
---
R. Ashley, K. Britton, A. Langan, Ray, And Corley Get Grove Wins
R. Ashley, K. Britton, A. Langan, Ray, And Corley Get Grove Wins
By Ben Deatherage
(Photo Courtesy of Dirt Monkey Productions)
Cottage Grove, Oregon- Cottage Grove Speedway would be back in action on Saturday, August 27th. The ¼-mile clay oval would host five classes during the course of the night with four of them crowning the 2016 champions. On tap were the Clark Printing Extreme Sprints, IMCA Modifieds, IMCA Sport Mods, Street Stocks, and the Open Comp 4-Cylinders.
Ricky Ashley would capture the lead on lap ten in the Clark Printing Extreme Sprint feature. Ashley, of Thurston, would maintain the position the rest of the way to get his second win of the campaign. Cottage Grove's Patrick Dills would end the night with the title for his second consecutive championship.
In the IMCA Modifieds, it would be an incredible main event. Kreg Britton would battle hard to get to the front in the early goings. The Cottage Grove chauffeur would stay there and keep back all challengers to win his first race of the campaign. Curtis Towns, also out of Cottage Grove, would win his third career IMCA Modified championship, and second in a row.
Andrew Langan, from Jasper, was a dominant force in the Street Stock division. Driving for car owner Kevin Williamson he would not look back once he took over the lead on lap two. Langan won his second race of the season as well as his third career track championship at CGS.
In the IMCA Sport Mods, Springfield's Daniel Ray got to the front on lap six. Ray would away from the rest of field and managed to win his second victory of 2016. Cottage Grove's Shawn Hand would have the most points at the end of the evening to win his first career IMCA Sport Mod title.
Josh Corley would get the job done in the Open Comp 4-Cylinder ranks. The Westfir driver got to the front on lap thirteen. Corley went on to capture the victory.
Cottage Grove Speedway will have Kage Kart racing on Saturday, September 3rd and Sunday, the 4th, for the Mike Lyons King of the West event. Complete information on the event can be found at www.cottagegrovespeedway.com/karts or http://www.cottagegrovespeedway.com/downloads/get.aspx?i=334131 .
---
Submitted By: Ben Deatherage
Article Media
Back to News