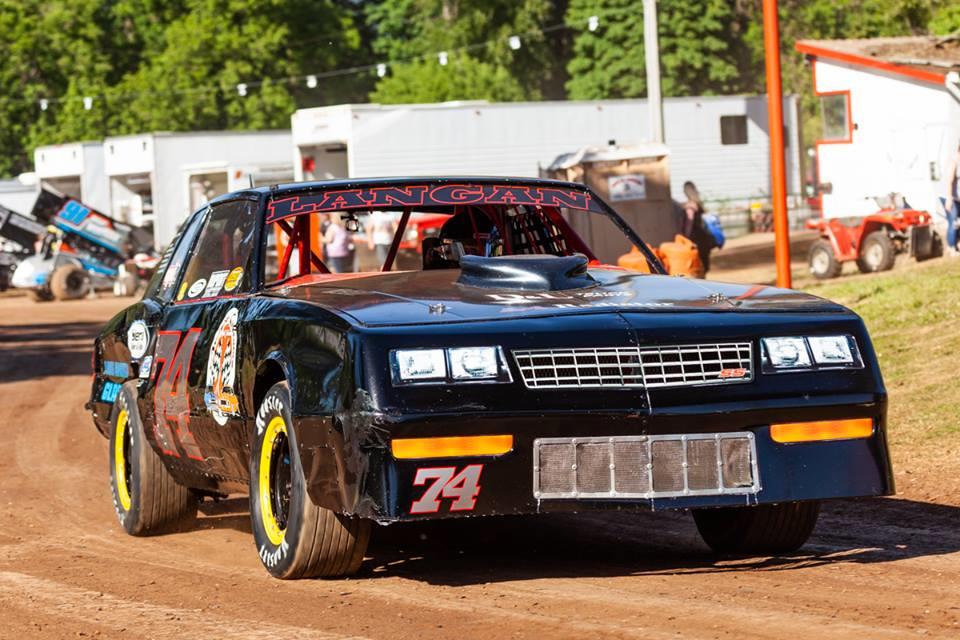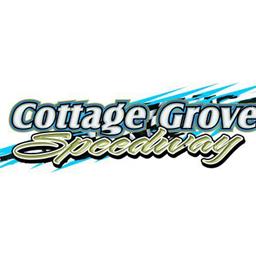 9/18/2018
Cottage Grove Speedway
---
Holmes, James, Braaten, Luckman, Langan, And Osborne Get CGS Championship Wins
Holmes, James, Braaten, Luckman, Langan, And Osborne Get CGS Championship Wins
By Ben Deatherage
(Photo Courtesy of Blair Fountain Photography)
Cottage Grove, Oregon- Cottage Grove Speedway officially closed out it's racing season on Saturday, September 15th. Over one-hundred race cars converged onto the historic ¼-mile clay oval. Six classes were involved in the bout including the Todd's Auto Body Sprints, Late Models, Mohawk Metal IMCA Modifieds, IMCA Sport Mods, Late Models, Street Stocks, and the Quality RV Repair Hornets.
Tanner Holmes, of Jacksonville, won his first race of the season in the Todd's Auto Body Sprint Cars. Junction City Shane Forte held on in a closely fought point battle to win his second championship in the division. Albany's Bricen James got the job done for the eighth occasion in the Mohawk Metal IMCA Modified ranks. Springfield driver Jake Mayden won his first career CGS point title and the newest in the history of the IMCA Mods.
Jorddon Braaten, from Central Point, obtained his ninth IMCA Sport Mod triumph and collected his first career points crown at "The Grove". Coos Bay youngster Preston Luckman won his seventh Late Model race of the campaign and picked up the championship as well.
Jasper chauffeur Andrew Langan ended the year at Cottage Grove with most Street Stock wins, at five, while hometown driver Ray Bloom won the title. Lastly, Creswell's Graig Osborne closed out his championship winning year in the Quality RV Repair Hornets with win number eight.
Cottage Grove Speedway has Monster Trucks and Freestyle Motocross on the docket on Friday, September 21st, and Saturday, the 22nd. For more information log on to www.cottagegrovespeedway.com .
Race Results:
Championship Night
Saturday, September 15th, 2018
Cottage Grove Speedway
Cottage Grove, Oregon
Late Models
A Feature 1: 1. 77-Preston Luckman, [10]; 2. 20-Josh Sim, [8]; 3. 18-Blaine Taylor, [6]; 4. 88P-Mike Peters, [4]; 5. 78-Ed Peters, [5]; 6. 33C-Craig Hanson, [9]; 7. 422-Chuck Christian, [7]; 8. 15R-Ryan Ronning, [3]; 9. 16-Rob Williams, [2]; 10. 02A-Aaron Lawsom, [1]
Todd's Auto Body Sprints
A Feature: 1. 18T-Tanner Holmes, [1]; 2. 7-Tyler Thompson, [3]; 3. 1K-Kinzer Cox, [2]; 4. 63F-Shane Forte, [4]; 5. 18H-A.J. Harbaugh, [15]; 6. 34-Melissa Solesbee, [12]; 7. 33-Kyle Alberding, [16]; 8. 57J-Jesse Schlotfeldt, [10]; 9. 71R-RC Levin, [17]; 10. 10K-Don Waddell, [20]; 11. 57B-Lindsay Barney, [8]; 12. 12S-Steven Snawder, [5]; 13. 9-Matthew Culver, [18]; 14. 3B-Ian Bandey, [9]; 15. 39-Justin Walker, [19]; 16. 71-Hedge Carter, [6]; 17. 22-Mike Crawford, [7]; 18. 85-Ricky Ashley, [11]; 19. 66-Brett McGhie, [13]; 20. 70-Raquel Ivie, [14]
B Feature: 1. 33-Kyle Alberding, [1]; 2. 71R-RC Levin, [2]; 3. 9-Matthew Culver, [4]; 4. 39-Justin Walker, [3]; 5. 10K-Don Waddell, [5]; 6. 48E-Enrique Jamie, [6]; 7. 66T-Tyrell Mead, [10]; 8. 4-Justin Tracy, [9]; 9. 6R-Morgan Burks, [7]; (DNS) 5-Adam Hinds,
IMCA Modifieds
A Feature: 1. 13-Bricen James, [9]; 2. 10-Gus Cooper, [3]; 3. W5-Jesse Williamson, [8]; 4. 5M-Jake Mayden, [7]; 5. 73-Tyler Smith, [5]; 6. 36-John Campos, [17]; 7. 27-Mark Carrell, [12]; 8. 15J-Jeremy Richey, [10]; 9. 45S-Aaron Sheelar, [14]; 10. 12Y-Derick Young, [6]; 11. 18R-Ryan Baker, [4]; 12. 73M-Dave Duste Jr., [20]; 13. 16P-Eric Luckman, [11]; 14. 83R-C.J. Putnam, [15]; 15. T85-Evan Britton, [16]; 16. 4P-Paul Rea, [13]; 17. 7K-Jantzen Knips, [1]; 18. 33E-Hunter Bloom, [18]; 19. 45-Jason Kocks, [2]; 20. 98D-Dan Shellar, [19]
B Feature: 1. 36-John Campos, [9]; 2. 33E-Hunter Bloom, [4]; 3. 98D-Dan Shellar, [1]; 4. 73M-Dave Duste Jr., [12]; 5. 50-Justin Ryker, [2]; 6. 44-Greg McDonald, [5]; 7. 51-Roy Kirk Jr., [10]; 8. 88-Randy Martin, [3]; 9. 33E2-Tony Bloom, [11]; 10. 43-Gene Powell, [8]; 11. 22A-Justin Austin, [6]; 12. 7M-Andrew Mathers, [7]
IMCA SportMods
A Feature: 1. 84-Jorddon Braaten, [10]; 2. 1-Bruce Ray, [5]; 3. 15JT-Justin McCreadie, [11]; 4. 98-Daniel Ray, [9]; 5. 99C-Doug Coffman, [7]; 6. 60J-Jordan Henry, [13]; 7. 12I-Isaac Sanders, [6]; 8. 47K-Kevin Keller, [14]; 9. 24-Steve Hopkins, [1]; 10. 43-Travis Pruitt, [15]; 11. 50-Tanya,Tanya Ryker,Ryker ,, [17]; 12. 26-Art Hiatt, [8]; 13. 11-Jared Simmons, [16]; 14. 98W-Mike Wilcox, [2]; 15. 45-Jamie,Jamie Britton,Britton ,, [18]; 16. 12W-Brandon Wilson, [12]; 17. 13-Shawn Hand, [3]; 18. 2-Matt Sanders, [4]; (DNS) 34-Ryan Pruitt,
Street Stocks
A Feature: 1. 74-Andrew Langan, [8]; 2. 9-David Schmidt, [10]; 3. 23-Garrett Barth, [6]; 4. 33E3-Ray Bloom, [9]; 5. 44-Troy Chamberlain, [7]; 6. 11C-Richard Clink, [1]; 7. 42-Wayne Clink, [4]; 8. 22-Melissa Adams, [2]; 9. 4-Adam Applebee, [5]; 10. R31-Michael Hollingsworth, [3]; (DNS) 33E-Hunter Bloom, ; (DNS) 98J-Josh Shellar,
Quality RV Repair Hornets
A Feature: 1. 07-Graig Osborne, [12]; 2. 65-Brad Moffitt, [7]; 3. 00-Adam Keggan, [9]; 4. 7-Gavin Ropchan, [2]; 5. 78W-Joel Hazen, [13]; 6. 77-Peyton Reigard, [4]; 7. 23H-Stacy Robinson, [16]; 8. 3-Kevin Jamieson, [14]; 9. 78-Rich Dickenson, [15]; 10. 18-Melissa Abston, [19]; 11. 0-James Donaldson, [6]; 12. 13-Barney Cannon, [1]; 13. 50-Larry Larson, [18]; 14. 37-Burnie Bryant, [3]; 15. 85-Gene Ashley, [8]; 16. 7C-Josh Corley IV, [10]; 17. 1-Dan Journey, [20]; 18. 7J-Jason Devine, [5]; 19. 89-Jim Simmons, [17]; (DQ) 84-Eric Ashley, [11]
B Feature: 1. 23H-Stacy Robinson, [2]; 2. 89-Jim Simmons, [4]; 3. 50-Larry Larson, [1]; 4. 18-Melissa Abston, [6]; 5. 1-Dan Journey, [10]; 6. 77W-Dave Heitzman, [3]; 7. 27-Dusten Henderson, [8]; 8. 33E-Dalton Bloom, [7]; (DNS) 14-Matt Ferguson, ; (DQ) 25-Michael Kenady, [5]
---
Submitted By: Ben Deatherage
Back to News