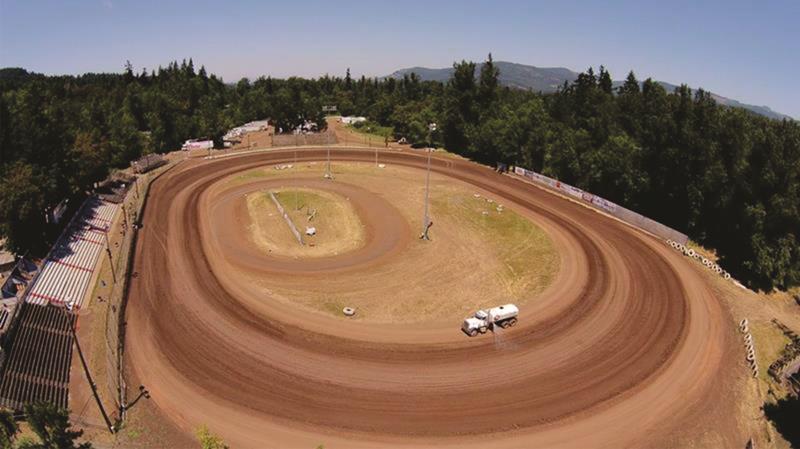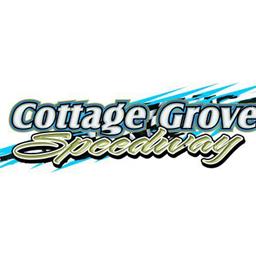 9/5/2019
Cottage Grove Speedway
---
Cottage Grove Speedway To Have Three Dwarf Car Clubs In The House On Friday And Saturday
Cottage Grove Speedway To Have Three Dwarf Car Clubs In The House On Friday And Saturday
By Ben Deatherage
Cottage Grove, Oregon- It will be a full house of Dwarf Cars at Cottage Grove Speedway. Three Dwarf clubs head to the famed ¼-mile clay oval this Friday, September 6th, and Saturday, the 7th. The Northwest Dwarf Cars, Southern Oregon Dwarf Car Association, and Pacific Hardtop Racing Association will all be in attendance.
Friday night will feature a $5.00 Fast Friday admission to get into the races with Children (5 and Under) FREE. Tickets on Saturday are $13.00 for Adults, Seniors/Juniors/Military $10.00, Youths (6-12) $5.00, and Children (5 & Under) are FREE. Friday the Pit Gates open at 1:00 PM, Front Gates 5:00, and Time Trials at 6:00 with racing beginning at 7:00. Saturday the Pit Gates open at 1:00 PM, Front Gates 3:30, and Time Trials at 5:30 with racing beginning at 6:00. For more information and updates log on to www.cottagegrovespeedway.com or check out the official Facebook page.
The Northwest Dwarf Car club is coming off of a big doubleheader weekend at River City Speedway. Ryan Martinez swept the races in St. Helens bringing his win count to four with the club. Jake Van Ortwick has three victories with the NWDCA over two-time winners Darren Brown and Ryan Winter. Brandon Wiley, Dennis Liebig, Jimmy Brinster, Josh King, Shawn Dorie, Brian Lee, Jake Tupper, and Camden Robustelli comprise of the long list of drivers with just a single triumph.
Josh King is atop of the win column in Southern Oregon Dwarf Car Association action. King has collected five SODCA winner's checks.
Camden Robustelli is hot off a sweep of the R. Charles Snyder Salute at Southern Oregon Speedway last weekend.
Robustelli has a respectable four wins with the series. Darren Brown and Ryan Winter have bested the field twice while Brandon Wiley and Brock Peters have done so just on one occasion each.
Lastly, the PHRA Dwarfs will make the trip with their club members. Josh King is the only repeat winner in 2019 with two triumphs against the competition. Earning just a single trophy this year has been Henry Corbin III, Danny Altom, Darren Brown, Rich Holbert, Shane Youngren, Doug McVae, Ryan Martinez, and Justin DeMars.
2019 Northwest Dwarf Cars Schedule
April 20th-Sunset Speedway Park-Banks, OR-Rained Out
April 27th-Sunset Speedway Park-Banks, OR-Jake Van Ortwick
May 25th-Sunset Speedway Park-Banks, OR-Rained Out
May 26th-Sunset Speedway Park-Banks, OR-Ryan Martinez
June 1st-River City Speedway-St. Helens, OR-Dennis Liebig
June 8th-Sunset Speedway Park-Banks, OR-Jimmy Brinster
*June 15th-Willamette Speedway-Lebanon, OR-Josh King
*June 21st-Sunset Speedway Park-Banks, OR-Ryan Martinez
June 22nd-Sunset Speedway Park-Banks, OR-Jake Van Ortwick
June 29th-Coos Bay Speedway-Coos Bay, OR-Camden Robustelli
*July 12th-River City Speedway-St. Helens, OR-Shawn Dorie
July 13th-River City Speedway-St. Helens, OR-Jake Van Ortwick
@August 2nd-Deming Speedway-Deming, WA-Brian Lee
@August 3rd-Skagit Speedway-Alger, WA-Jake Tupper
%>August 12th-Coos Bay Speedway-Coos Bay, OR-Darren Brown
%>August 13th-Cottage Grove Speedway-Cottage Grove, OR-Darren Brown
%>August 14th-Cottage Grove Speedway-Cottage Grove, OR-Ryan Winter
%>August 15th-Sunset Speedway Park-Banks, OR-Ryan Winter
%>August 16th-Grays Harbor Raceway-Elma, WA-Brandon Wiley
August 31st-River City Speedway-St. Helens, OR-Ryan Martinez
September 1st-River City Speedway-St. Helens, OR-Ryan Martinez
September 6th-Cottage Grove Speedway-Cottage Grove, OR
September 7th-Cottage Grove Speedway-Cottage Grove, OR
September 14th-Willamette Speedway-Lebanon, OR
September 28th-Coos Bay Speedway-Coos Bay, OR
*-Denotes non-point events
-Denotes co-sanctioned events with the Southern Oregon Dwarf Car Association
@-Denotes co-sanctioned events with the AMCA Bandit Series
%-Denotes Northwest Dwarf Car Speedweek events
Former Northwest Dwarf Cars Champions
2014- Ryan Martinez
2015- Ryan Martinez
2016- Shane Youngren
2017- Shane Youngren
2018- Jimmy Brinster
2019 Southern Oregon Dwarf Car Association Schedule
April 27th-Siskiyou Golden Speedway-Yreka, CA-Josh King
May 11th-Southern Oregon Speedway-White City, OR-Camden Robustelli
May 18th-Southern Oregon Speedway-White City, OR-Rained Out
May 25th-Southern Oregon Speedway-White City, OR-Rained Out
June 1st-Southern Oregon Speedway-White City, OR-Brock Peters
June 8th-Cottage Grove Speedway-Cottage Grove, OR-Josh King
June 22nd-Southern Oregon Speedway-White City, OR-Josh King
June 29th-Coos Bay Speedway-Coos Bay, OR-Camden Robustelli
July 20th-Southern Oregon Speedway-White City, OR-Josh King
August 3rd-Southern Oregon Speedway-White City, OR-Josh King
%>August 12th-Coos Bay Speedway-Coos Bay, OR-Darren Brown
%>August 13th-Cottage Grove Speedway-Cottage Grove, OR-Darren Brown
%>August 14th-Cottage Grove Speedway-Cottage Grove, OR-Ryan Winter
%>August 15th-Sunset Speedway Park-Banks, OR-Ryan Winter
%>August 16th-Grays Harbor Raceway-Elma, WA-Brandon Wiley
August 31st-Southern Oregon Speedway-White City, OR-Camden Robustelli
September 1st-Southern Oregon Speedway-White City, OR-Camden Robustelli
September 6th-Cottage Grove Speedway-Cottage Grove, OR
September 7th-Cottage Grove Speedway-Cottage Grove, OR
September 14th-Southern Oregon Speedway-White City, OR
September 28th-Coos Bay Speedway-Coos Bay, OR
-Denotes co-sanctioned events with the Northwest Dwarf Cars
%-Denotes Northwest Dwarf Car Speedweek events
Former Southern Oregon Dwarf Car Association Champions
1998- Jon DeBenedetti
1999- Jon DeBenedetti
2000- Jon DeBenedetti
2001- Gary Fitzsimmons
2002- Gary Fitzsimmons
2003- Dave Van Acker
2004- Crash Jackson
2005- Jerry Apland
2006- Tom Palazzolo
2007- Jim Harsha
2008- Kelly Gutches
2009- Greg Denton
2010- Kelly Gutches
2011- R.J. McGaheuy
2012- R.J. McGaheuy
2013- C.J. Putnam
2014- Josh King
2015- Josh King
2016- Brock Peters
2017- Brock Peters
2018- Josh King
2019 Pacific Hardtop Racing Association Schedule
May 4th-Madras Speedway-Madras, OR-Henry Corbin III
May 11th-Cottage Grove Speedway-Cottage Grove, OR-Danny Altom
May 18th-Grays Harbor Raceway-Elma, WA-Rich Holbert
June 1st-Grays Harbor Raceway-Elma, WA-Shane Youngren
*June 8th-Cottage Grove Speedway-Cottage Grove, OR-Josh King
June 29th-Madras Speedway-Madras, OR-Rained Out
July 13th-Madras Speedway-Madras, OR-Doug McVae
July 26th-Grays Harbor Raceway-Elma, WA-Josh King
July 27th-Grays Harbor Raceway-Elma, WA-Ryan Martinez
August 3rd-Madras Speedway-Madras, OR-Justin DeMars
August 17th-Grays Harbor Raceway-Elma, WA-Darren Brown
*@September 6th-Cottage Grove Speedway-Cottage Grove, OR
*@September 7th-Cottage Grove Speedway-Cottage Grove, OR
September 21st-Madras Speedway-Madras, OR
-Denotes co-sanctioned races with Southern Oregon Dwarf Car Association
-Denotes co-sanctioned races with Northwest Dwarf Cars

---
Submitted By: Heather Boyce
Back to News