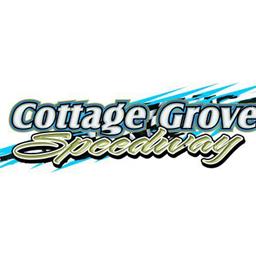 10/9/2020
Cottage Grove Speedway
---
SATURDAY, OCTOBER 10TH CANCELED, CLASSES RESCHEDULED FOR THE 17TH!
We had hoped that the forecast would change and be a little more favorable for racing on Saturday night but you can't argue with 100% chance of rain all day, so we have no choice but to cancel the October 10th race.
The extended forecast looking to the 17th does look better so we are hopeful that our season can continue then. At this time we have all of the classes listed below tentatively scheduled for the 17th however, we do need you all to let us know if you plan to be here, if there are any classes with car count below 10 cars we unfortunately have no choice but to cancel that class for the weekend. We want to give you all a great place to race as long as the weather allows and the interest is there, however we know many of you have other fall obligations and can't continue racing this late in the season. Please be sure to let Heather know by Thursday, October 15th if you plan on racing. Also be sure to check back, in the event all 8 classes run we may be looking at an earlier start time. Thank you all for your patience and understanding during this difficult race season!
Scheduled classes for October 17th
Late Models
Modifieds
Limited Sprints
Sportmods
Street Stocks
Sport Compacts
Midgets
Wingless Sprints
Call Heather at 541-729-8666 if you plan to attend!!
---
Submitted By: Heather Boyce
Back to News