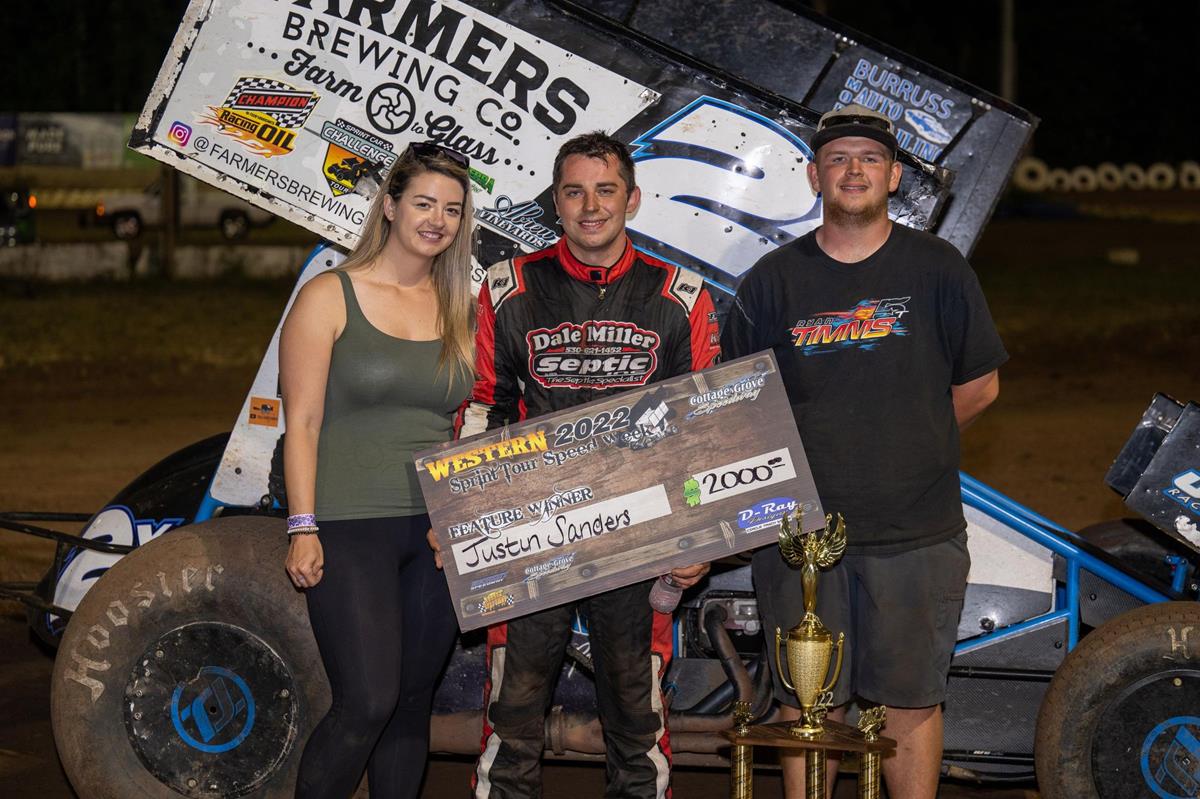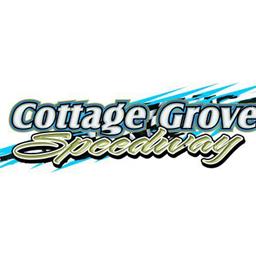 7/27/2022
Cottage Grove Speedway
---
Justin Sanders Wins Tuesday Night Speedweek Northwest Bout At CGS
Justin Sanders Wins Tuesday Night Speedweek Northwest Bout At CGS
(Photo Courtesy of Jason Davenport)
Cottage Grove, Oregon- Cottage Grove Speedway experienced temperatures north of 100 degrees Fahrenheit on Tuesday, July 26th. Twenty-seven teams were in the pits representing the states of Oregon, Washington, California, and Idaho, as well as the Canadian provinces of British Columbia and Alberta.
Justin Sanders took off on the initial green to pick up the lead on the opening lap. The Aromas, California racer, driving for the Mittry Motorsports team, had to deal with several stoppages, including one red flag and five yellow flag incidents. But on every restart, Sanders was perfect and could construct sizable leads.
Despite all the slow down periods and some occasional heavy-lapped traffic, no one seemed to have anything for Justin. Finally, however, Justin Sanders would dominate the race to win his first race of the week and his second career Speedweek Northwest victory. His previous triumph was in 2019 at Cottage Grove Speedway.
Cottage Grove's Kinzer Cox had a brilliant run to finish in second, while Tanner Holmes of Jacksonville placed third. Logan Forler, from Boise, Idaho, posted a fourth-place result over fifth finishing Redding, California native Chase Majdic, driving for car owner Adam Main. Matt Hein, in the Brett Smith-owned entry, was the winner of the consolation feature.
The Western Sprint Tour's Speedweek Northwest remains at Cottage Grove Speedway on Wednesday, July 27th. For more information, check out the Western Sprint Tour Facebook page.
Race Results:
Speedweek Northwest Round #4
Tuesday, July 26th, 2022
Cottage Grove Speedway
Cottage Grove, Oregon
A Feature: 1. 2X-Justin Sanders; 2. 1K-Kinzer Cox; 3. 18T-Tanner Holmes; 4. 2L-Logan Forler; 5. 35M-Chase Majdic; 6. 19-Colby Thornhill; 7. 7-Tyler Thompson; 8. 21-Jesse Schlotfeldt; 9. 4-Jodie Robinson; 10. 5H-Blake Carrick; 11. 8R-Joel Myers Jr.; 12. 2JR-Kelly Miller; 13. 71L-Korey Lovell; 14. F1-Corbyn Fauver; 15. 87-Ashlyn Rodriguez; 16. 25S-Seth Standley; 17. 12JS-Jarrett Soares; 18. 98H-Matt Hein; 19. 33-Kyle Alberding; 20. 54S-Drake Standley
B Feature: 1. 98H-Matt Hein; 2. 2JR-Kelly Miller; 3. 87-Ashlyn Rodriguez; 4. 12JS-Jarrett Soares; 5. 5-Kenny Wanderstadt; 6. 17C-Chris Bullock; 7. 34-Melissa Solesbee; 8. 75-Brian Boswell; 9. 78-Don Trent; 10. 34R-T.J. Richman; 11. 12-Steven Snawder
---
Submitted By: Ben Deatherage
Back to News