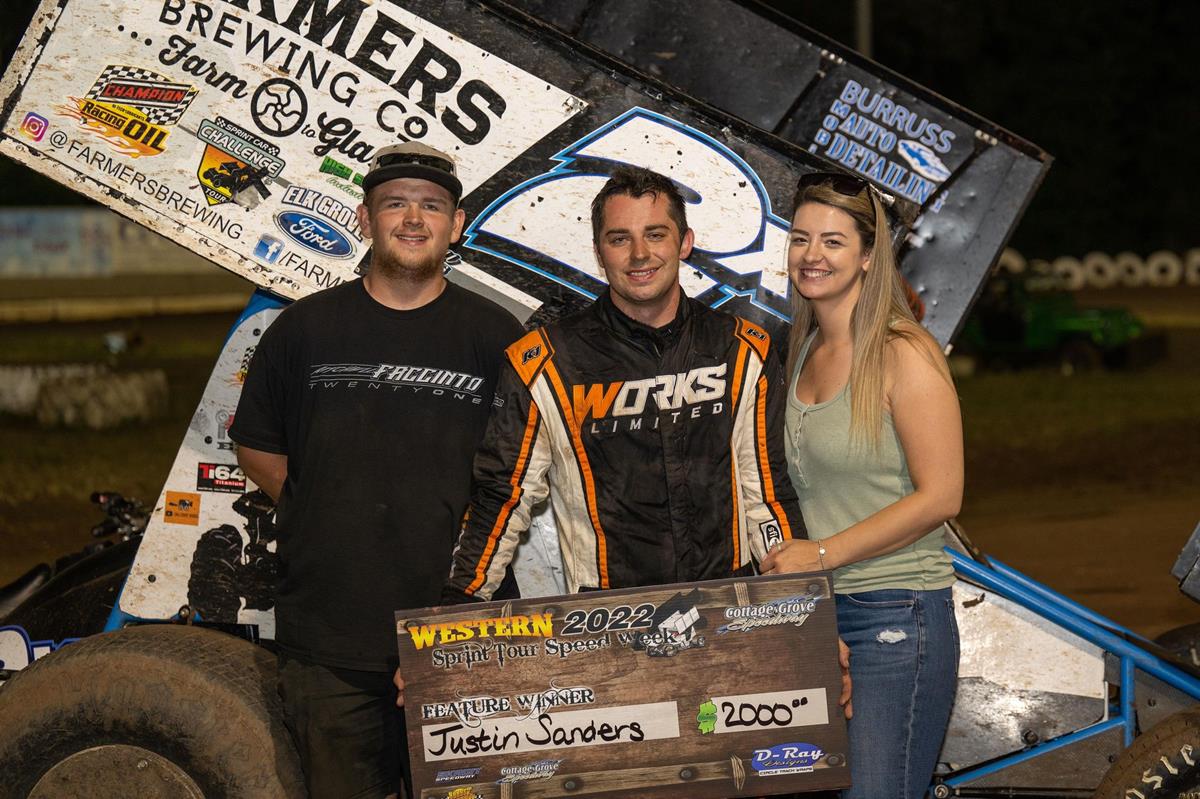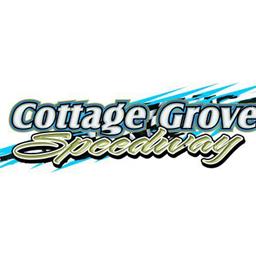 7/29/2022
Cottage Grove Speedway
---
Justin Sanders Doubles Up 2022 Speedweek Northwest Winning Account At CGS With Wednesday Night Victory
Justin Sanders Doubles Up 2022 Speedweek Northwest Winning Account At CGS With Wednesday Night Victory
(Photo Courtesy of Jason Patterson)
Cottage Grove, Oregon- Cottage Grove Speedway was in action for the second straight night for Speedweek Northwest on Wednesday, July 27th. It was the fifth round of the series in six days. Twenty-six teams were in attendance from the states of Oregon, Washington, California, and Idaho, as well as the Canadian provinces of British Columbia and Alberta.
Jacksonville's Tanner Holmes sprinted out to the early lead when the action got started for the main event. Unfortunately, Holmes had to deal with a pair of restarts without issue in the first couple of laps. Then, on an eighteen-circuit green flag run, Tanner briefly went off the top of the first set of turns, allowing Justin Sanders to overtake him.
Sanders, from Aromas, California, and racing for the Mittry Motorsports team, rocketed out in front of the rest of the competition on lap ten. He also had to deal with two restarts in the final ten laps, which did not give him any issues.
There would be a brief heartstopping moment when Justin briefly got together with a lapped car on the final lap.
Fortunately for Justin Sanders, he would resume the role as the trailblazer and score his second straight win of the week. He is the first repeat victor of Speedweek Northwest 2022 and now has three total triumphs to his total with the tour.
Tanner Holmes rallied to the runner-up position while Cottage Grove native Kinzer Cox posted a third-place result. Kelly Miller from Coaldale, Alberta, and Logan Forler, of Boise, Idaho, were fourth and fifth in the finishing order. Everett, Washington driver Corbyn Fauver was the B Main winner.
The Western Sprint Tour's Speedweek Northwest returns at Cottage Grove Speedway on Friday, July 29th, for the first of two nights of the Marvin Smith Memorial Grove Classic. For more information, check out the Western Sprint Tour Facebook page.
Race Results:
Speedweek Northwest Round #5
Wednesday, July 27th, 2022
Cottage Grove Speedway
Cottage Grove, Oregon
A Feature: 1. 2X-Justin Sanders; 2. 18T-Tanner Holmes; 3. 1K-Kinzer Cox; 4. 2JR-Kelly Miller; 5. 2L-Logan Forler; 6. 4-Jodie Robinson; 7. 8R-Joel Myers Jr.; 8. 35M-Chase Majdic; 9. 19-Colby Thornhill; 10. Steven Snawder; 11. 34-Melissa Solesbee; 12. 98H-Matt Hein; 13. 5-Kenny Wanderstadt; 14. 25S-Seth Standley; 15. 78-Don Trent; 16. 75-Brian Boswell; 17. 21-Jesse Schlotfeldt; 18. 17C-Chris Bullock; 19. 7-Tyler Thompson; 20. F1-Corbyn Fauver
B Feature: 1. F1-Corbyn Fauver; 2. 5-Kenny Wanderstadt; 3. 25S-Seth Standley; 4. 78-Don Trent; 5. 34R-T.J. Richman; 6. 87-Ashlyn Rodriguez; 7. 12JS-Jarrett Soares; 8. 71L-Korey Lovell; DNS 5H-Blake Carrick; DNS 54S-Drake Standley
---
Submitted By: Ben Deatherage
Back to News