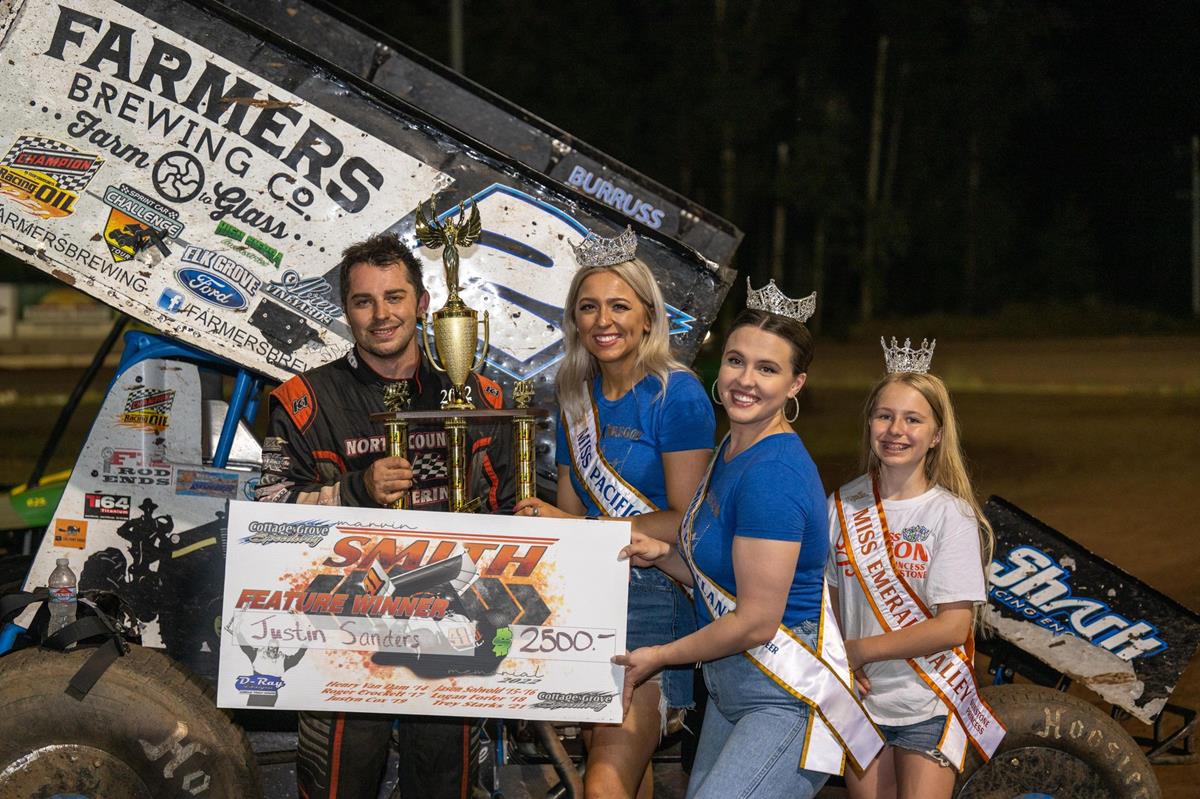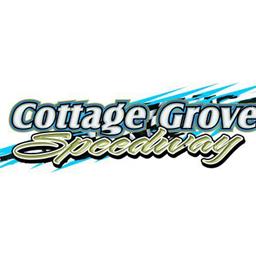 7/30/2022
Cottage Grove Speedway
---
Justin Sanders Threepeats At CGS In Speedweek Round 6; Langan And Drake Also Win
Justin Sanders Threepeats At CGS In Speedweek Round 6; Langan And Drake Also Win
(Photo Courtesy of Jason Patterson)
Cottage Grove, Oregon- Friday, July 29th, witnessed the resumption of Speedweek Northwest 2022. After a day off, teams were ready to tackle Cottage Grove Speedway for the sixth race of the week and the opening leg of the Marvin Smith Memorial Grove Classic. Thirty-five teams were in attendance representing the states of Oregon, Washington, California, and Idaho, as well as the Canadian province of British Columbia. IMCA Sport Compacts and Street Stocks were the support divisions.
Roseville, California racer Jodie Robinson set a fast pace in the first half of the main event. She would hold down the lead until being overtaken shortly after a lap fourteen restart. It would be Justin Sanders yet again getting to P1.
Sanders, from Aromas, California, and piloting the Mittry Motorsports entry officially took over leadership duties on the seventeenth circuit. Justin would remain there the rest of the caution-free distance to achieve his third consecutive win of the week and his fourth career Speedweek Northwest triumph.
Jodie Robinson held on to end the evening second, followed by Lincoln, California's Blake Carrick, in the Harley Van Dyke machine, in third. Tanner Holmes, from Jacksonville, was fourth, followed by fifth finishing Logan Forler of Boise, Idaho. Two consolation features were run with victories going to Arlington, Washington teenager Jesse Schlotfeldt and Jared Hood of Grants Pass.
Jasper's Andrew Langan picked up a big win in the Street Stocks. Racing for car owner Josh Linville, Langan beat out all contenders to the line after multiple laps of jockeying for position. Springfield chauffeurs Hunter Bloom and Jayson Nelson were second and third. Mike Swaim of Dexter was fourth, followed by Eric Freeman, from Cottage Grove, in fifth.
In the IMCA Sport Compacts, Scarlett Drake won his second straight main event of 2022. The Salem racer now has three total this season. Rosburg's Ryan Dickenson was the runner-up, while Chris Pierce, from Cottage Grove and running for Randy Kuhl, earned third. Oakland driver Bruce Miller beat out Zach Kintzley, from Lowell, for fifth.
The Western Sprint Tour's Speedweek Northwest will be in action for the final night on Saturday, July 30th. The series remains at Cottage Grove Speedway for the concluding round of the 2022 Marvin Smith Memorial. For more information, check out the Western Sprint Tour Facebook page.
Race Results:
Speedweek Northwest Round #6
Marvin Smith Memorial Preliminary Night
Friday, July 29th, 2022
Cottage Grove Speedway
Cottage Grove, Oregon
A Feature: 1. 2X-Justin Sanders; 2. 4-Jodie Robinson; 3. 5H-Blake Carrick; 4. 18T-Tanner Holmes; 5. 2L-Logan Forler; 6. 21-Jesse Schlotfeldt; 7. 19-Colby Thornhill; 8. 31C-Justyn Cox; 9. 1K-Kinzer Cox; 10. 12-Steven Snawder; 11. 33H-Colton Heath; 12. 8R-Joel Myers Jr.; 13. 22-Garen Linder; 14. 87-Ashlyn Rodriguez; 15. 2XM-Max Mittry; 16. 98H-Matt Hein; 17. A1-Jared Hood; 18. 9T-Billy Nutter; 19. 33A-Kyle Alberding; 20. 33T-Tyler Driever
B Feature 1: 1. 21-Jesse Schlotfeldt; 2. 33H-Colton Heath; 3. 26F-Shane Forte; 4. 54S-Drake Standley; 5. 75-Brian Boswell; 6. 1F-D.J. Freitas; 7. 78-Don Trent; 8. 71L-Korey Lovell; DNS 5-Kenny Wanderstadt; DNS 35M-Chase Majdic
B Feature 2: 1. A1-Jared Hood; 2. 87-Ashlyn Rodriguez; 3. 17C-Chris Bullock; 4. 18C-Colby Fox; 5. 34R-T.J. Richman; 6. 10K-Jake Waddell; 7. 4D-Patrick Desbiens; 8. 34-Melissa Solesbee; DNS 25S-Seth Standley
---
Submitted By: Ben Deatherage
Back to News