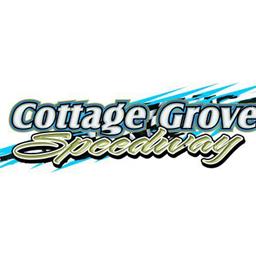 10/3/2022
Cottage Grove Speedway
---
CG SPEEDWAY PLAYDAY THIS SUNDAY, OCTOBER 9TH!! LET'S HAVE SOME FUN!!!
The sun is still shining and we aren't ready to call it a year yet! This Sunday we will have a playday/open track from 2pm-6pm. Everyone is welcome no matter the type of car (big track only), and we will cater to you guys and gals! Want a powder puff? We can do that! Crew man races? Not a problem! Father/son grudge match? It's on! We are gonna open the track up and let you all tell us what you want! We will also have plenty of time for just some practice laps so get that car loaded and head on down to Cottage Grove Speedway this Sunday, October 9th! The gates will open at noon and the track will be ready to go at 2pm!
Pit passes are $15.00 per person and each car will be an additional $10.00.
The Pit Concession stand will also be open.
---
Submitted By: Heather Boyce
Back to News