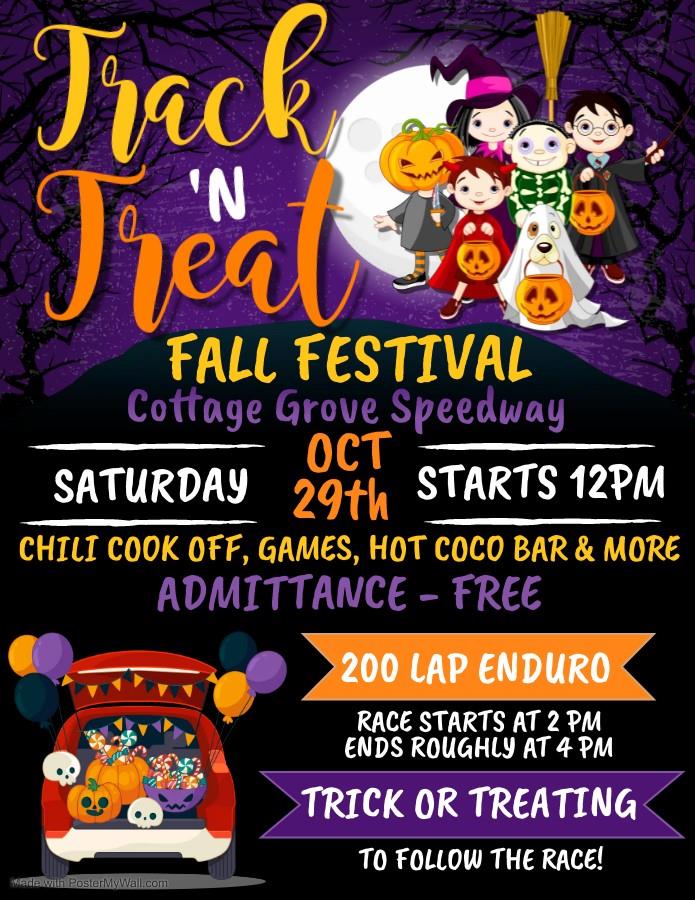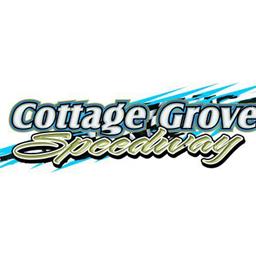 10/10/2022
Cottage Grove Speedway
---
COTTAGE GROVE SPEEDWAY IS A SPOOKTACULAR PLACE TO BE!!
Cottage Grove Speedway is proud to present our first annual TRACK - N - TREAT Enduro & Fall Festival!! We would like to thank our friends at Pacific Racing Association for allowing us to carry on the event they had previously planned to run at Douglas County Speedway as well as Roseburg Racing Promotions for working with us on the scheduling of the Enduro to ensure a great turnout!
We are excited for a full day of family fun with so many things for all ages to enjoy!! (See below for a current list of activities)
Gates will open at noon and admission is FREE!! We are currently looking for sponsors to help with the Enduro Purse as well as some additional prizes. We are also looking for businesses that would like to have a game booth set up for the kids!
Mark your calendars for the fun day at the races and make sure you check back for more info as the planning has just begun!!
October 29th Activities!!
Enduro - The green flag will fly for this 200 lap race at 2pm and will go non-stop (Except for safety stops)! The purse will be posted soon but will be a minimum of $500 to win! The rules can be found at www.cottagegrovespeedway.com
Trick or Treating - This will take place after the Enduro race around 4:30pm, all cars are welcome to participate in this!
Chili Cook Off - Who doesn't like a little competition and to show off their mad cooking skills??? Just be sure to make a big enough pot for everyone to get a taste and cast their votes! Chili tasting will start at noon and the winner will be picked at the end of the Enduro!
Fall Festival - We will have some great fall and Halloween themed games for everyone to enjoy before and during the enduro! If you would like to provide a game booth let us know!
Hot Chocolate Bar - No better way to warm up at the races than with a nice warm cup of cocoa and we will have all the good stuff to add!! Cups will be for sale starting at noon!
Hay Rides - Take a trip around the racetrack after the enduro on our Hay ride adventure!!
If you have any other fun ideas or would like to be a part of this event in any way please reach out to Heather at 541-729-8666!
HAPPY HALLOWEEN!!!
---
Submitted By: Heather Boyce
Back to News