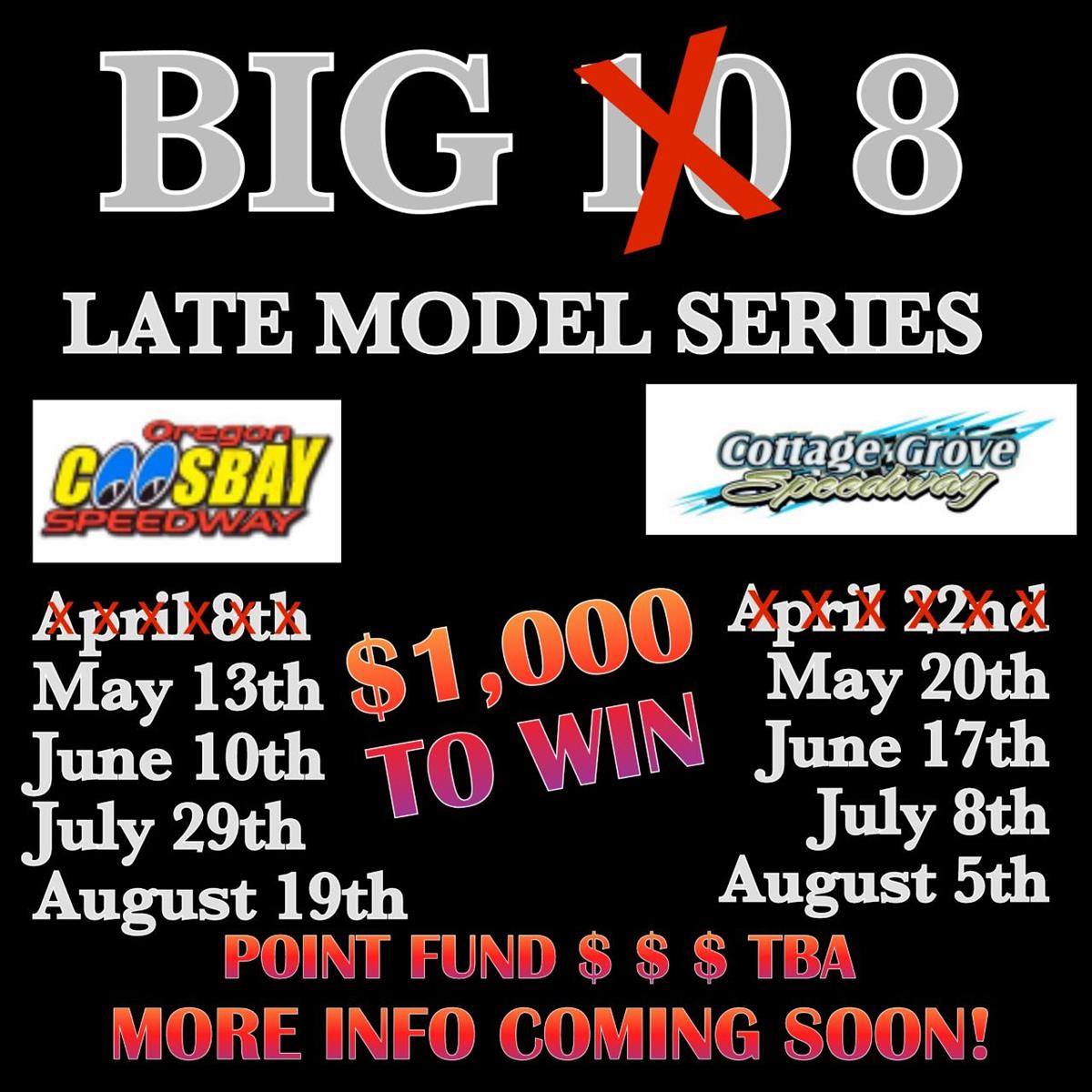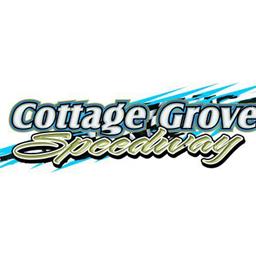 5/17/2023
Cottage Grove Speedway
---
BIG 10 LATE MODELS BACK FOR NIGHT #2 AT COTTAGE GROVE SPEEDWAY!!
The Big 10 Late Model Series between Cottage Grove Speedway and Coos Bay Speedway heads to Cottage Grove Speedway for the 2nd night of series action this season!
Current points are as follows:
Big 10 Late Model Series
Place Car # Name May 13th Coos Bay
1 77 Preston Luckman 100
2 88 Braden Fugate 95
3 23H Hannah Robinson 92
4 8 Garret Smith 90
5 97 Ryan Emry 88
6 52 Chris Ray 86
All of the information regarding format, payout, and point fund can be found below.
We are still looking for series sponsors to help grow the point fund, if you are interested please get ahold of either Heather at Cottage Grove or Drake at Coos Bay.
See you all at the races!!
Format
Qualifying – Every car will get 2 laps of qualifying. Order will be determined by pill draw.
Qualifying points will be awarded as follows:
50 points to fast time and down by 1 point
Qualifying points are solely for line-up purposes and not end of year standings
Qualifying will be split into 2 groups when 4 heats will be run.
Heat Races – Heat races will each have a 6 car invert, fast time will start in position 6 in the first heat.
Heat Race points will be awarded as follows:
Heat race winners will receive 50 points as go down by 3 points
Heat race points will be added to qualifying points and are solely for line-up purposes and not end of year standings
8 laps
Trophy Dash – The top 6 in points will do a random draw for a trophy dash. The finish of the dash will determine the front 6 starting spots.
6laps
Main Event – The top positions will be determined by the trophy dash. Everyone else will start heads up by points with 7th place starting in 7th position. 16 cars will be locked into the A Main
40 laps
B Main Events – All cars not locked into the A main will start heads up based on total points in the B Main event. 17th will start on the pole of the B Main event. If 1 B Main is ran 4 will transfer to the A Main. If 2 B Mains are ran 2 will transfer from each. 17th in points will start on the pole of B Main 1 and 18th in points will start on the pole of B Main 2.
12 laps
Full Payout
1st - $1000
2nd - $500
3rd - $300
4th - $220
5th - $180
6th out the back - $150
Point Fund (If we each put in $1000)
1st - $1000
2nd - $500
3rd - $250
4th - $150
5th - $100
---
Submitted By: Heather Boyce
Back to News