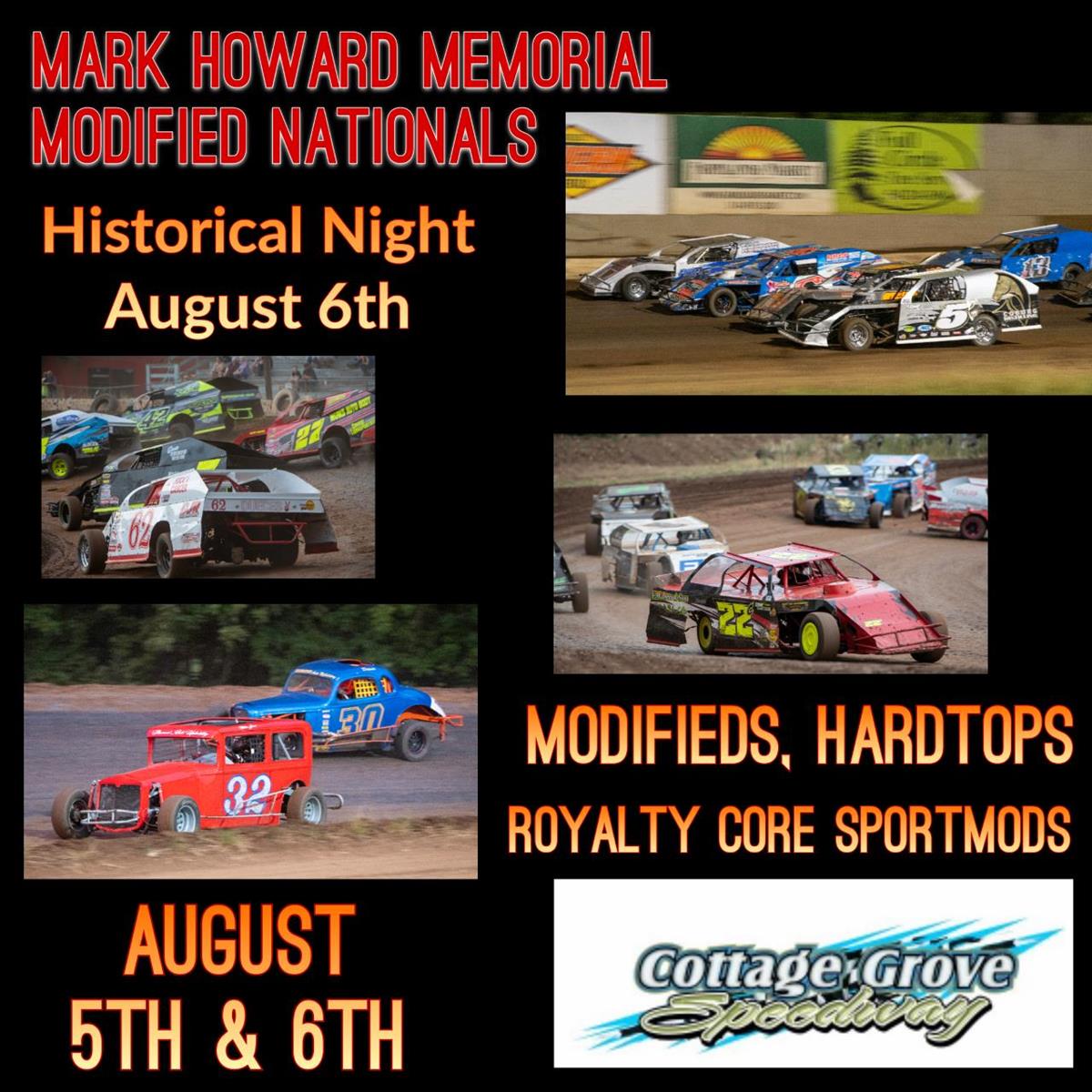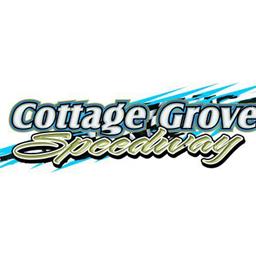 8/2/2022
Cottage Grove Speedway
---
DRIVER INFO FOR MARK HOWARD MEMORIAL NATIONALS!!
2022 MODIFIED NATIONALS FORMAT
Race of Champions:
You must have either been a champion in any big car class in the past or won a modified race in 2022
*Championships in Karts and Micros will not qualify you
Modified Nationals Night #1:
Qualifying
If 4 heat races are ran, qualifying will be split into 2 groups
The fastest cars in each group will be 1st and 2nd quick time
The second fast in each group will be 3rd and 4th quick time
And so on down the line
Heat Races will have a 6-car invert from qualifying
Main Events will be lined up from heat race finish, fast time will pull a random invert chip after the last heat race is run
Modified Nationals Night #2:
The top 10 cars based on the point scale below from night #1 will run a 10-lap scramble for starting position in the A Main. Ties will be broken by A Main Finish Order Scramble starting order will be a random draw.
All other cars will run heat races lined up by points total from night 1, 11th in points will start on the pole of heat #1, 12th in points on the pole of heat 2, etc. How you finish the heats will line you up heads up behind the top 10, winner of heat one will start 11th, winner of heat two will start 12th
Format subject to change depending on car count, time, etc.
Qualifying points 20 down by 1
Heat Race 10 down by 1
Main Event 50 down by 2
Night #1 Payout is standard CG payout
Night #2
1st – 2600.00
2nd – 1500
3rd – 1000
4th – 600
5th – 500
6th – 400
7th – 300
8th – 250
9th – 200
10th - 150
11th – out the back 100
Race of Champions
Race will be ran Friday, to qualify you must have been a champion in any big car class, karts and micros do not qualify, or have won a prior modified national or equivalent large race, or have a modified win this year.
Race of champions will pay as follows:
1st - $500.00
2nd - $300.00
3rd - $200.00
4th - $150.00
5th - $100.00
6th - $75.00
7th - $60.00
8th out the back - $50.00
You must pre-register for this race. Only the first 20 cars registered will get to race the RoC ??
Pit passes are $40.00 each night, drivers will need to register at CG if you havne't already done so for the season the registration fee is $25.00, there will not be an additional race fee. Transponders can be rented for $20.00.
Roylaty Core Sportmods & HardTops will be running a regular format and regular payout will be awarded each night.
For more information or to register for the race or the race of champions please call Heather at 541-729-8666
Camping in your tow vehicle is allowed in the pits, there will be no personal vehicles or other camping in other vehicles allowed in the pits, only tow vehicle and trailer. All other camping must be reserved at the fairgrounds, 541-942-6150
---
Submitted By: Heather Boyce
Back to News