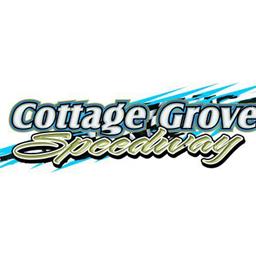 8/17/2022
Cottage Grove Speedway
---
Jake Wheeler And Danny Wagner Score Tuesday Night Week Of Speed Wins At CGS
Jake Wheeler And Danny Wagner Score Tuesday Night Week Of Speed Wins At CGS
Cottage Grove, Oregon- Round two of the Week of Speed would be at Cottage Grove Speedway on Tuesday, August 16th. The event would attract the Interstate Sprint Car Series and Dwarf Cars. Drivers and teams from the states of Oregon, Washington, California, and the Canadian province of British Columbia were all represented.
Stanwood, Washington teenager Jesson Jacobson got to the early race lead in the ISCS Sprint Car feature. He would remain at the point until overtaken in lapped traffic on the seventh circuit. Jake Wheeler, from Central Point and piloting the Roger Henderson-owned entry, was the one to take control of P1.
Wheeler had his hands full with heavy traffic and pressure from Tanner Holmes of Jacksonville. However, Jake made the decisive moves to secure the lead and the victory. It is his second straight win of the week and the second of his career at CGS for ISCS.
Tanner Holmes was a close second, followed by Austin Sause, from Coos Bay, in third. Whonnock, British Columbia racer Luke Didiuk, driving for the Johnson family, grabbed fourth while Jesson Jacobson ended the night fifth.
Roseburg racer Chris Kress was the driver the blazed the trail in the beginning stages of the Dwarf Car main event. However, he would be overtaken by Danny Wagner on lap five. From Bay Point, California, Wagner dominated the balance of the distance to win his first career Dwarf Car Speedweek main event.
Chris Kress held on to finish the runner-up, with third going to Tanner Curr of Albany. Lotus, California's Shawn Whitney, and Bryson Smith, from Portland, were the balance of the top five finishers in fourth and fifth. Grants Pass pilot Travis Gergel was the victor in the consolation feature.
Cottage Grove Speedway is back in action on Wednesday, August 17th, for round three of the Week of Speed. They will once again feature the Interstate Sprint Car Series and Dwarf Cars. For more information, log on to www.cottagegrovepspeedway.com.
---
Submitted By: Ben Deatherage
Back to News