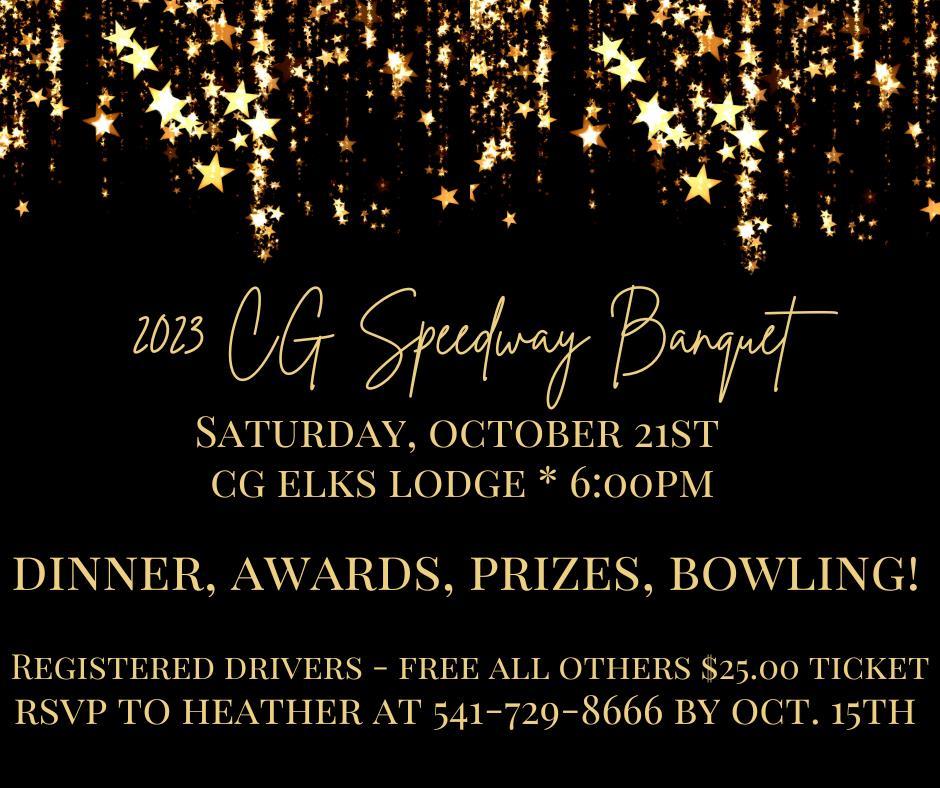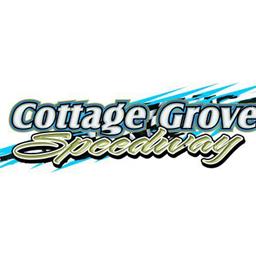 10/16/2023
Cottage Grove Speedway
---
2023 BANQUET INFORMATION!
The banquet will once again be held at the Cottage Grove Elks Lodge followed by bowling at The Cottage Bowl and as always all registered drivers are invited to be our guests free of charge! Anyone else that would like to come join in the fun is $25.00.
The doors will open at 5:00pm and dinner will be served at 6:00pm followed by awards. The full list of who will be awarded is below, however you are all invited to join us for a fun night out!
The evening will include dinner at the Elks, followed by awards and prizes! Then we will head over to the bowling alley for bowling with some fun competitions, more prizes, and dessert!
Every year the banquet is a lot of fun and we hope to see you there, to RSVP please call Heather at 541-729-8666 no later than October 15th!
Drivers to be awarded:
Juniors
1st - #5T - Charles Trissell
2nd - #14 - Faith Bryant
3rd - #41H - Keith Hammans
4th - #5M - Tynlee Mayden
5th - #98 - Sami DeSilva
Kiefer Compacts
1st - #25 - Michael Kennerly
2nd - #37 - Burnie Bryant
3rd - #18K - Kerry Cooper
4th - #55 - Bruce Miller
5th - #89 - Jim Simmons
6th - #51 - RC Halsey
7th - #46 - Eli Miller
8th - #22o - Dusten Henderson
9th - #80 - Melissa Bryant
10th - #24 - Tiffany Towns
Street Stocks
1st - #4A - Adam Applebee
2nd - #16 - Shannon Collins
3rd - #20TH - Jared Simmons
4th - #5 - Brad Hicks
5th - #64 - Eric Freeman
Royalty Core Sportmods
1st - #60J - Jordan Henry
2nd - #333 - Aaron Bloom
3rd - #01 - Daniel Ray
4th - #33B - Hunter Bloom
5th - #3 - Garrett Craig
6th - #71 - Mitchell Jamieson
7th - #19 - Madilynn Ashley
9th - #17 - Mike DeSilva
Todd's Auto Body Sprints
1st - #26F - Shane Forte
Modifieds
1st - #5M - Jake Mayden
2nd - #24 - Curtis Towns
3rd - #33 - Paul Rea
4th - #16C - Kolby Clay
5th - #42C - Paul Culp
6th - #45S - Aaron Sheelar
7th - #4TH - John Player
Late Models
1st - #22JM - Jake Mayden
2nd - #88F - Braden Fugate
3rd - #24 - Nathan Augustine
4th - #13B - Randy Barley
5th - #422 - Chuck Christian
6th - #22 - Davey Evans
7th - #26S - Willie Sutton
8th - #16 - Rob Williams
360 Sprints
1st - #7 - Tyler Thompson
2nd - #1K - Kinzer Cox
---
Submitted By: Heather Boyce
Back to News