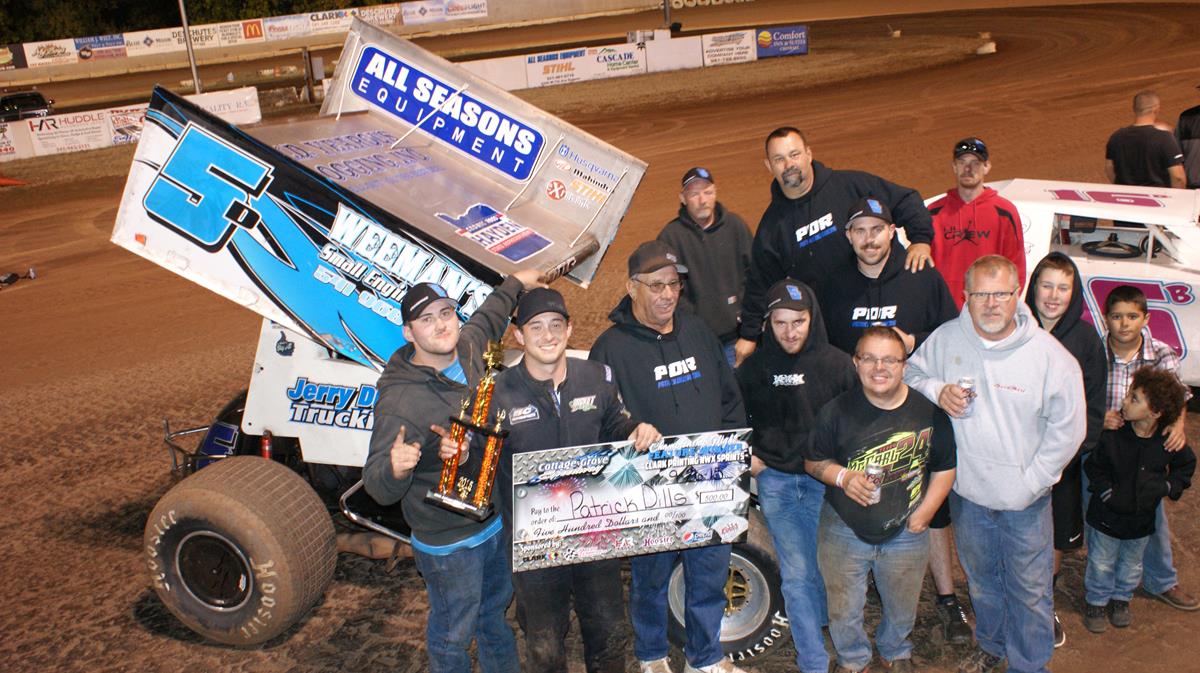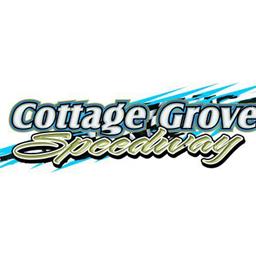 9/30/2015
Cottage Grove Speedway
---
Dills, Towns, Clay, Langan, And Letsom Coors Championship Night Winners At CGS
Dills, Towns, Clay, Langan, And Letsom Coors Championship Night Winners At CGS
By Ben Deatherage
(Photo Courtesy of Dirt Monkey Productions)
Cottage Grove Speedway would be in action for the final time in 2015 on Saturday September 26th for Championship Night presented by Coors Brewing Company. A full pit area and some great racing would close the campaign out at the historic 1/4-mile clay oval. Classes in competition included the Clark Printing Extreme Sprints, Late Models, IMCA Modifieds, IMCA Sport Mods, Street Stocks, and the Quality RV Repair Hornets.
Securing the race lead on lap eleven, in the Clark Printing Extreme Sprints, Patrick Dills was in dominant form. The Cottage Grove native, piloting his Jacob Daniels Attorney at Law/Oregon State Representative Cedric Ross Hayden/M.D. Yearous Logging/BC Motorsports #5D KPC, would hold on the rest of the way to win his third main event of the year. He also would be declared the 2015 Clark Printing Extreme Sprint champion in just his second year in a Sprint Car.
After a decent battle for the lead in the IMCA Modifeid main event Cottage Grove's Curtis Towns would eventually secure the position. From there he would stay in the coveted spot to achieve his fourth victory of 2015. Towns and the Superior Fuel Cells/Valley Rose Contruction/West End Performance/IBEW Local 280 #24 X-Factor would claim their second career Modified track championship at "The Grove".
Towns was not done collecting trophies for the night as he would win the Late Model feature too. He would lead every circuit to put the Superior Fuel Cells/All Pro Steel/Rapid Delivery Service/Superior Silkscreen and Embroidary #42 X-Factor in victory lane for car owners Paul and Maria Culp for the ninth time this year. Towns would also claim the title for the Late Model division becoming the first driver in the modern era to win two championships in the same season.
Kolby Clay was the car to beat in the IMCA Sport Mod ranks. Chauffeuring the West End Performance #16B machine, owned by Frank Brewer, he would lead the entire race. It would be the second victory of the campaign for the Junction City driver. On the championship side of things the A-1 Auto Supply/Furniture Options/Ashley Family Racing #85 machine of Jasper's Gene Ashley would collect his first career championship in his decades long racing career.
Andrew Langan once again would get the job done in the Street Stocks. Langan, also out of Jasper, would win his second straight race of the year in his D&L Truck Parts/Sierra Gear & Axle/West Coast Deferentials #74 Nova. The championship however would be claimed by Chris Sine of Eugene who drove the Murphy Plywood/Pro Auto Racing/Quantum Mechanics/Pure Romance by April #24 Camaro. It would be his first career track championship at CGS.
Finally in the Quality RV Repair Hornets it would be a caution filled affair. But when everything was said and done the Letsom Racing #23 Toyota Echo of Brandon Letsom, from Marcola, would be the winner for the fourth occasion in 2015. Cottage Grove's Chris Pierce, in the Jayson Nelson owned Quality RV Repair/AP Media/Froggy's Towing #28 Acura Integra, would win the title for the second year in a row to become the first ever repeat champion in the Hornet division.
With the 2015 racing season complete another great year is in the books. Be sure and stay tuned on www.cottagegrovespeedway.com for upcoming information about the awards banquet and the 2016 race schedule.
Race Summary:
Championship Night presented by Coors
Saturday September 26th, 2015
Cottage Grove Speedway
Cottage Grove, Oregon
Late Models
A Feature 1: 1. 42-Curtis Towns; 2. 02L-Tom Lawson; 3. 9-David Schmidt; 4. 20-Josh Sim; 5. 24-Nathan Augustine; 6. 88-Mike Peters; 7. 16-Rob Williams; 8. 15R-Ryan Ronning; 9. 02A-Aaron Lawsom
Clark Printing Extreme Sprints
A Feature 1: 1. 5D-Patrick Dills; 2. 1B-Chelsea Blevins; 3. 12-Orion Redmond; 4. 85-Ricky Ashley; 5. 71-Colby Carter; 6. 70-Raquel Ivie; 7. 21-Mike Griffith; 8. 10K-Don Waddell; 9. 66-Brett McGhie; 10. 57-Dusty Redmond
IMCA Modifieds
A Feature 1: 1. 24-Curtis Towns; 2. 5M-Jake Mayden; 3. 1K-Kinzer Cox; 4. 68-Bubba Foster; 5. 85-T.J. Langan; 6. 77-Kreg Britton; 7. 11-Steven Sturdevant; 8. 10-Gus Cooper; 9. 84-Eric Ashley; 10. 33E-Austin Bloom; 11. 38-Justin Ryker; 12. 93-Taunton Swaim; 13. 16-Ryan McTaggart; 14. 44-Greg McDonald; 15. 95-Josh Linville; 16. 18R-Ryan Baker; 17. 34-Eric Cooper
IMCA SportMods
A Feature 1: 1. 16B-Kolby Clay; 2. 38-Jimmy Owen; 3. 12X-Pamela Graham; 4. 73-Tyler Smith; 5. 85-Gene Ashley; 6. 51N-Jayson Nelson; 7. 51-Roy Kirk Jr.
Street Stocks
A Feature 1: 1. 74-Andrew Langan; 2. 24-Chris Sine; 3. 10-Steve Dubisar; 4. 11-Steven Sturdevant; 5. 23-Garrett Barth; 6. 50-Scott Boss
Quality RV Repair Hornets
A Feature 1: 1. 23-Brandon Letson; 2. 7-Andrew Mathers; 3. 30-K.C. Scott; 4. 51N-Mike Simmons; 5. 77-Jared Simmons; 6. 03-Eddy Mesceji; 7. 28-Chris Pierce; 8. 11-Joe Maricle; 9. 48-Mike Swaim; 10. 4-Dan Jenkinson; 11. 11D-Richard Dickenson; 12. 7D-Kolby Clay; 13. 5-Kayla Simmons; 14. 12-Daniel Butterfield; 15. 13-Steve Moore; 16. 23F-Marcel Forte; 17. 22A-Justin Austin; 18. 0-James Donaldson; 19. 89-Jim Simmons; 20. 71-Ralph Swaim
---
Submitted By: Ben Deatherage
Back to News