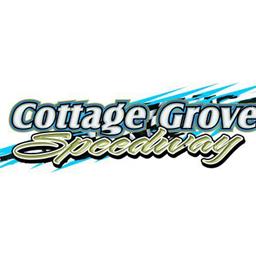 9/5/2016
Cottage Grove Speedway
---
Championship Weekend At Cottage Grove Speedway Next; Karts On Friday September 9th
Championship Weekend At Cottage Grove Speedway Next; Karts On Friday September 9th
By Ben Deatherage
Cottage Grove, Oregon- The final time to see some of the best racing in the Pacific Northwest is this weekend at Cottage Grove Speedway. The Kage Karts will have their final race on Friday, September 9th while the ¼-mile clay oval will race on Saturday, the 10th. Divisions on the card for Saturday include 360 Sprints, Late Models, and the Quality RV Repair Hornets while the Modifieds will be non-sanctioned and non-points. All three championships on the line are mathematically up for grabs.
For the Kart races General Admission is FREE and Pit Passes are $10.00 and Car and Driver fees will be $35.00. The Pit Gate will open up around 4:00 PM and the Pit Meeting is at 6:00 PM with Hot Laps and Racing to follow.
Roger Crockett has the most wins in the 360 Sprints with three trips to victory lane. Kyle Miller is the only other multi-feature winner, with two, while Jason Solwold and Trey Starks have one win each. Kyle Miller has a thirty-five point advantage over second place Roger Crockett. Garen Linder, third in the standings, is forty markers back behind Miller.
In the Late Model division, Ron Brewster leads in the win column with three victories over Britton Donahoo's two. Donahoo though has a fifty-eight point lead over Brewster in the race for the championship. Darren Coffell, Rob Campos, John Duty, Preston Luckman, Jesse Williamson, and Brian Cronk all have one Late Model win this year.
In the Quality RV Repair Hornets Joe Maricle has the most wins and points so far. Marcile has made seven trips to the winner's circle while Josh Corley has six. Corley trails Maricle by thirty-one markers headed into the final event. K.C. Scott, Brad Moffett, and Chris Pierce have one win to their credit.
Times for Saturday are Pit Gates open at 2:00 PM, Front Gates 4:00, and Racing is scheduled to start around 6:30. Tickets are Adults $13.00, Juniors/Seniors $10.00, Youth (6-12) $5.00, Family Pass $30.00, and Children 5 or under are FREE. As will happen all year long in honor of our 60th Anniversary the 60th fan through the Front Gate gets in for FREE. For more information, log on to www.cottagegrovespeedway.com.
---
Submitted By: Ben Deatherage
Back to News