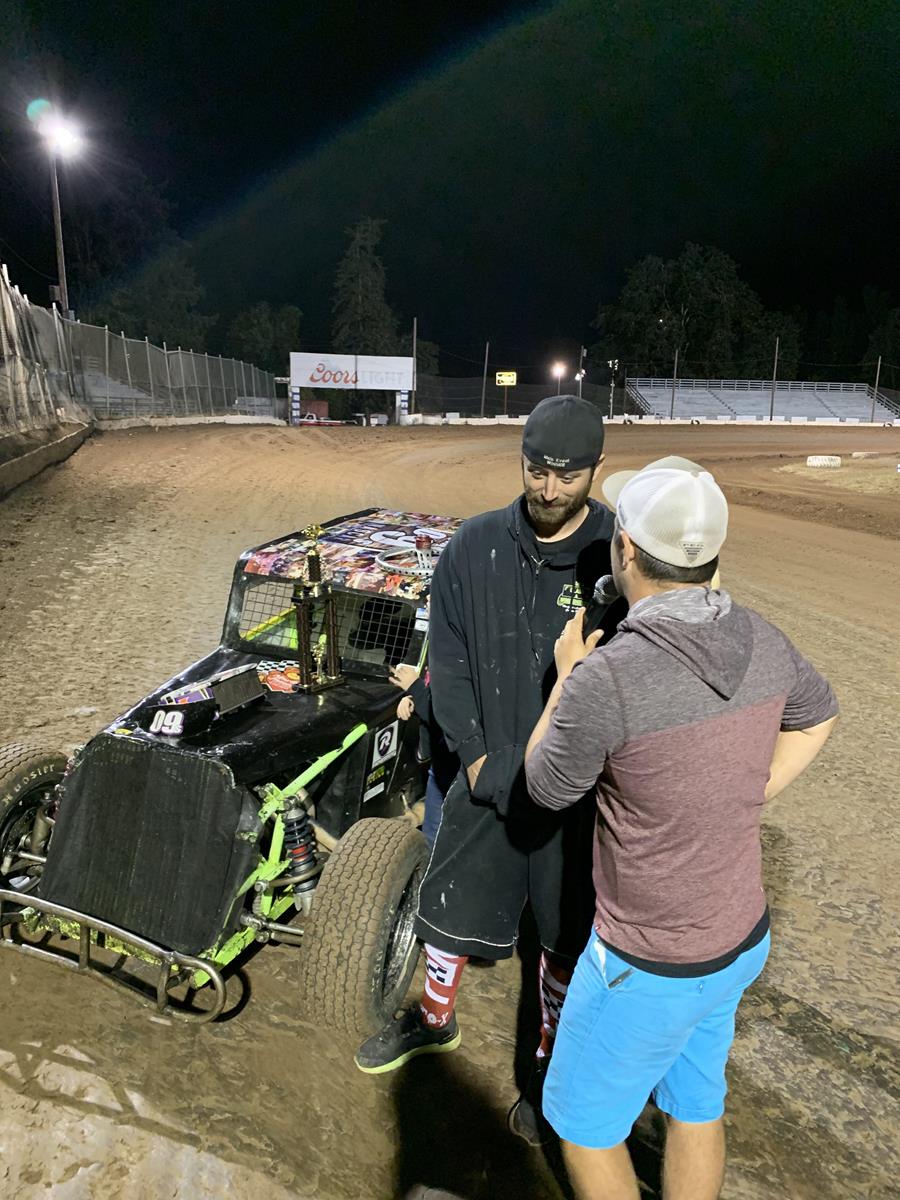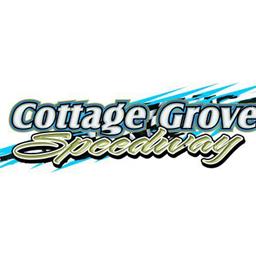 9/10/2019
Cottage Grove Speedway
---
Josh King Wins Second Night Off At Cottage Grove
Josh King Wins Second Night Off At Cottage Grove
By Ben Deatherage
(Photo Courtesy of Lester Hankins)
Cottage Grove, Oregon- Saturday, September 7th hosted the second night of action for the Dwarf Cars. It was an event which three clubs were in attendance including the Northwest Dwarf Cars, Southern Oregon Dwarf Car Association, and Pacific Hardtop Racing Association. A total of twenty-seven entries filled up the pit area at the famed ¼-mile clay oval.
Camden Robustelli picked up from where he left off from the night before by grabbing the initial lead. The only stoppage of the main event was a red flag incident on lap three. Robustelli retained the position after the restart. However, he would be overtaken on the twelfth lap.
The driver to take over the role as the new race leader was Josh King. King, of Central Point, checked out the rest of the distance and dominated. It is the second win for him at CGS this year and the tenth overall victory of his season.
Camden Robustelli was second while Justin DeMars, of Sandy, got third. The rest of the top five consisted of fourth finishing Kalvin Morton, from Medford and racing for car owner Paul Haslow, and Portland's Ryan Martinez, in fifth.
Earlier in the night, four heat races were run. Winners in those events were Molalla veteran Henry Corbin III, Kalvin Morton, Camden Robustelli, and Josh King. Jimmy Brinster, of St. Helens, won the consolation feature.
The next race for the Northwest Dwarf Cars is this Saturday, September 14th at Willamette Speedway. The SODCA make their final trip to Southern Oregon Speedway this coming Saturday. The PHRA takes next week off before their last race of the season at Madras Speedway in Central Oregon.
Race Results
Northwest Dwarf Car Race #20/Southern Oregon Dwarf Car Association #16/Pacific Hardtop Racing Association Race #12
Saturday, September 7th, 2019
Cottage Grove Speedway
Cottage Grove, Oregon
Heat Race Winners: Henry Corbin III (1), Kalvin Morton (2), Camden Robustelli (3), Josh King (4)
B-Feature: 1. Jimmy Brinster; 2. Kyle Frelich; 3. Casey Warren; 4. Herny Corbin II; 5. Mark Nielsen; 6. Guy Williams; 7. Dane Halbert; 8. Max White; 9. Jim Fisher; 10. Jesse Lorentz; DNS Cody Peters
A-Feature: 1. Josh King; 2. Camden Robustelli; 3. Justin DeMars; 4. Kalvin Morton; 5. Ryan Martinez; 6. Jake Van Ortwick; 7. Henry Corbin III; 8. Josh Rodgers; 9. Chad Cardoza; 10. Jimmy Brinster; 11. Kyle Frelich; 12. Steve Walker; 13. Fred Hay; 14. Teagan Fischer; 15. Henry Corbin II; 16. Ashleigh Strain; 17. Adam Chaffee; 18. Brock Peters; 19. Casey Warren; DNS Tanner Curr
2019 Northwest Dwarf Cars Schedule
April 20th-Sunset Speedway Park-Banks, OR-Rained Out
April 27th-Sunset Speedway Park-Banks, OR-Jake Van Ortwick
May 25th-Sunset Speedway Park-Banks, OR-Rained Out
May 26th-Sunset Speedway Park-Banks, OR-Ryan Martinez
June 1st-River City Speedway-St. Helens, OR-Dennis Liebig
June 8th-Sunset Speedway Park-Banks, OR-Jimmy Brinster
*June 15th-Willamette Speedway-Lebanon, OR-Josh King
*June 21st-Sunset Speedway Park-Banks, OR-Ryan Martinez
June 22nd-Sunset Speedway Park-Banks, OR-Jake Van Ortwick
June 29th-Coos Bay Speedway-Coos Bay, OR-Camden Robustelli
*July 12th-River City Speedway-St. Helens, OR-Shawn Dorie
July 13th-River City Speedway-St. Helens, OR-Jake Van Ortwick
@August 2nd-Deming Speedway-Deming, WA-Brian Lee
@August 3rd-Skagit Speedway-Alger, WA-Jake Tupper
%>August 12th-Coos Bay Speedway-Coos Bay, OR-Darren Brown
%>August 13th-Cottage Grove Speedway-Cottage Grove, OR-Darren Brown
%>August 14th-Cottage Grove Speedway-Cottage Grove, OR-Ryan Winter
%>August 15th-Sunset Speedway Park-Banks, OR-Ryan Winter
%>August 16th-Grays Harbor Raceway-Elma, WA-Brandon Wiley
August 31st-River City Speedway-St. Helens, OR-Ryan Martinez
September 1st-River City Speedway-St. Helens, OR-Ryan Martinez
September 7th-Cottage Grove Speedway-Cottage Grove, OR-Josh King
September 14th-Willamette Speedway-Lebanon, OR
September 28th-Coos Bay Speedway-Coos Bay, OR
*-Denotes non-point events
-Denotes co-sanctioned events with the Southern Oregon Dwarf Car Association
@-Denotes co-sanctioned events with the AMCA Bandit Series
%-Denotes Northwest Dwarf Car Speedweek events
Former Northwest Dwarf Cars Champions
2014- Ryan Martinez
2015- Ryan Martinez
2016- Shane Youngren
2017- Shane Youngren
2018- Jimmy Brinster
2019 Southern Oregon Dwarf Car Association Schedule
April 27th-Siskiyou Golden Speedway-Yreka, CA-Josh King
May 11th-Southern Oregon Speedway-White City, OR-Camden Robustelli
May 18th-Southern Oregon Speedway-White City, OR-Rained Out
May 25th-Southern Oregon Speedway-White City, OR-Rained Out
June 1st-Southern Oregon Speedway-White City, OR-Brock Peters
June 8th-Cottage Grove Speedway-Cottage Grove, OR-Josh King
June 22nd-Southern Oregon Speedway-White City, OR-Josh King
June 29th-Coos Bay Speedway-Coos Bay, OR-Camden Robustelli
July 20th-Southern Oregon Speedway-White City, OR-Josh King
August 3rd-Southern Oregon Speedway-White City, OR-Josh King
%>August 12th-Coos Bay Speedway-Coos Bay, OR-Darren Brown
%>August 13th-Cottage Grove Speedway-Cottage Grove, OR-Darren Brown
%>August 14th-Cottage Grove Speedway-Cottage Grove, OR-Ryan Winter
%>August 15th-Sunset Speedway Park-Banks, OR-Ryan Winter
%>August 16th-Grays Harbor Raceway-Elma, WA-Brandon Wiley
August 31st-Southern Oregon Speedway-White City, OR-Camden Robustelli
September 1st-Southern Oregon Speedway-White City, OR-Camden Robustelli
September 7th-Cottage Grove Speedway-Cottage Grove, OR-Josh King
September 14th-Southern Oregon Speedway-White City, OR
September 28th-Coos Bay Speedway-Coos Bay, OR
-Denotes co-sanctioned events with the Northwest Dwarf Cars
%-Denotes Northwest Dwarf Car Speedweek events
Former Southern Oregon Dwarf Car Association Champions
1998- Jon DeBenedetti
1999- Jon DeBenedetti
2000- Jon DeBenedetti
2001- Gary Fitzsimmons
2002- Gary Fitzsimmons
2003- Dave Van Acker
2004- Crash Jackson
2005- Jerry Apland
2006- Tom Palazzolo
2007- Jim Harsha
2008- Kelly Gutches
2009- Greg Denton
2010- Kelly Gutches
2011- R.J. McGaheuy
2012- R.J. McGaheuy
2013- C.J. Putnam
2014- Josh King
2015- Josh King
2016- Brock Peters
2017- Brock Peters
2018- Josh King
2019 Pacific Hardtop Racing Association Schedule
May 4th-Madras Speedway-Madras, OR-Henry Corbin III
May 11th-Cottage Grove Speedway-Cottage Grove, OR-Danny Altom
May 18th-Grays Harbor Raceway-Elma, WA-Rich Holbert
June 1st-Grays Harbor Raceway-Elma, WA-Shane Youngren
*June 8th-Cottage Grove Speedway-Cottage Grove, OR-Josh King
June 29th-Madras Speedway-Madras, OR-Rained Out
July 13th-Madras Speedway-Madras, OR-Doug McVae
July 26th-Grays Harbor Raceway-Elma, WA-Josh King
July 27th-Grays Harbor Raceway-Elma, WA-Ryan Martinez
August 3rd-Madras Speedway-Madras, OR-Justin DeMars
August 17th-Grays Harbor Raceway-Elma, WA-Darren Brown
September 6th-Cottage Grove Speedway-Cottage Grove, OR-Camden Robustelli
*@September 7th-Cottage Grove Speedway-Cottage Grove, OR-Josh King
September 21st-Madras Speedway-Madras, OR
-Denotes co-sanctioned races with Southern Oregon Dwarf Car Association
-Denotes co-sanctioned races with Northwest Dwarf Cars
---
Submitted By: Ben Deatherage
Back to News