Witness some of the funnest, fastest and fiercest racing action at Cottage Grove.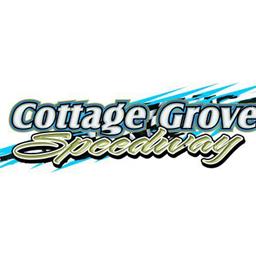 5/21/2022 - Cottage Grove Speedway
Cottage Grove, OR
MARVIN SMITH MEMORIAL TUNE UP & ARMED FORCES NIGHT
The weekend before the big one..... Come get a taste of what is to come next weekend!! All past and present military will receive FREE general admission, we thank you all from the bottom of our hearts for your service to our country!
360 Sprints

22 entries

IMCA Modifieds

13 entries

IMCA SportMods

22 entries

Dwarf Cars

19 entries

IMCA Sport Compact

22 entries
Full Event Information on MyRacePass
360 Sprints
Finish
Start
#
Competitor
Hometown
+/-
1
5
22L
Garen Linder Central Point, OR
Central Point, OR
4
2
6
18T
Tanner Holmes Jacksonville, OR
Jacksonville, OR
4
3
10
21
Jesse Schlotfeldt Arlington, WA
Arlington, WA
7
4
9
33
Kyle Alberding Winston, OR
Winston, OR
5
5
4
2JR
Kelly Miller Stirling, AB
Stirling, AB
-1
6
11
33T
Tyler Driever Meridian, ID
Meridian, ID
5
7
22
26F
Shane Forte Junction City, OR
Junction City, OR
15
8
14
22C
Carly Holmes Jacksonville, OR
Jacksonville, OR
6
9
17
07
Austin Sause Coos Bay, OR
Coos Bay, OR
8
10
7
7
Tyler Thompson Harrisburg, OR
Harrisburg, OR
-3
11
19
98
Nathan Ellertson Cottage Grove, OR
Cottage Grove, OR
8
12
16
8C
Anissa Curtice Eureka, CA
Eureka, CA
4
13
1
12S
Steven Snawder Roseburg, OR
Roseburg, OR
-12
14
21
34
Melissa Solesbee Cottage Grove, OR
Cottage Grove, OR
7
15
13
10K
Don Waddell Roseburg, OR
Roseburg, OR
-2
16
20
78
Don Trent Gaston, OR
Gaston, OR
4
17
18
71
John Stuart Kelso, WA
Kelso, WA
1
18
2
1K
Kinzer Cox Cottage Grove, OR
Cottage Grove, OR
-16
19
3
10J
Jake Waddell Roseburg, OR
Roseburg, OR
-16
20
8
98H
Matt Hein Roseburg, OR
Roseburg, OR
-12
21
15
57C
Chris Schmelzle Colville, WA
Colville, WA
-6
22
12
75
Brian Boswell Creswell, OR
Creswell, OR
-10
IMCA Modifieds
Finish
Start
#
Competitor
Hometown
+/-
1
4
13
Bricen James Albany, OR
Albany, OR
3
2
7
28
Ian Whisler Otis, OR
Otis, OR
5
3
8
82
Eston Whisler Otis, OR
Otis, OR
5
4
3
5M
Jake Mayden Springfield, OR
Springfield, OR
-1
5
11
84
Eric Ashley Jasper, OR
Jasper, OR
6
6
6
5W
Todd Shandy Albany, OR
Albany, OR
-
7
5
45S
Aaron Sheelar Springfield, OR
Springfield, OR
-2
8
13
4TH
John Player Oregon, OR
Oregon, OR
5
9
12
51
Roy Kirk Jr Marcola, OR
Marcola, OR
3
10
10
16
Austin McTaggart Springfield, OR
Springfield, OR
-
11
2
11
Steven Sturdevant Springfield, OR
Springfield, OR
-9
12
1
85
Ricky Ashley Thurston, OR
Thurston, OR
-11
13
9
33
Paul Rea Eugene, OR
Eugene, OR
-4
IMCA SportMods
Finish
Start
#
Competitor
Hometown
+/-
1
1
33
Dalton Bloom Battle Ground, WA
Battle Ground, WA
-
2
3
E3
Ray Bloom
1
3
8
2M
Matt Sanders Brookings, OR
Brookings, OR
5
4
4
01
Daniel Ray Springfield, OR
Springfield, OR
-
5
9
21P
Ryan Peery Yreka, CA
Yreka, CA
4
6
11
333
Aaron Bloom Cottage Grove, OR
Cottage Grove, OR
5
7
2
69
Dustin Comer Springfield, OR
Springfield, OR
-5
8
6
4
Kevin Williamson Coburg, OR
Coburg, OR
-2
9
12
7S
Steven Sanders Brookings, OR
Brookings, OR
3
10
5
W4
Ron Wilson Coburg, OR
Coburg, OR
-5
11
13
22C
Ray Comer Oregon, OR
Oregon, OR
2
12
14
60J
Jordan Henry Roseburg, OR
Roseburg, OR
2
13
10
33B
Hunter Bloom Eugene, OR
Eugene, OR
-3
14
16
42
Chuck Carson Springfield, OR
Springfield, OR
2
15
7
12I
Isaac Sanders Brookings, OR
Brookings, OR
-8
16
19
3
Garrett Craig Veneta, OR
Veneta, OR
3
17
18
C4
Michael Hollingsworth Creswell, OR
Creswell, OR
1
18
15
61
Dean Prather Keizer, OR
Keizer, OR
-3
19
20
M80
Pat McLaughlin Eugene, OR
Eugene, OR
1
20
22
24
Steve Hopkins Roseburg, OR
Roseburg, OR
2
21
21
19
Madilynn Ashley Jasper, OR
Jasper, OR
-
22
17
79
Brandon Norton Goshen, OR
Goshen, OR
-5
Dwarf Cars
Finish
Start
#
Competitor
Hometown
+/-
1
2
18
Tommy Velasquez Camarillo, CA
Camarillo, CA
1
2
1
01K
Chris Kress Roseburg, OR
Roseburg, OR
-1
3
6
29O
Jake Tupper Warren, OR
Warren, OR
3
4
5
43
Tanner Curr Albany, OR
Albany, OR
1
5
4
88S
John Chrisman Hillsboro, OR
Hillsboro, OR
-1
6
18
C46
Kyle Thompson Hillsboro, OR
Hillsboro, OR
12
7
9
5O
Teagan Fischer St. Helens, OR
St. Helens, OR
2
8
11
98E
Erin Morgenstern Oregon, OR
Oregon, OR
3
9
8
54O
Dave Bruhn Oregon, OR
Oregon, OR
-1
10
12
65O
Gary Wegener
2
11
10
01
Chris Wright Creswell, OR
Creswell, OR
-1
12
13
6R
Morgan Burks Tenmile, OR
Tenmile, OR
1
13
16
42
Dennis Tower Rainer, OR
Rainer, OR
3
14
14
99X
Trevor Coats Springfield, OR
Springfield, OR
-
15
3
8
Brenden McMaster Roseburg, OR
Roseburg, OR
-12
16
7
32S
RC Levin Roseburg, OR
Roseburg, OR
-9
17
17
68
Shane Jordan Vancouver, WA
Vancouver, WA
-
DNS
15
23O
molly williams Portland, OR
Portland, OR
-
IMCA Sport Compact
Finish
Start
#
Competitor
Hometown
+/-
1
4
75
Rich Dickenson Roseburge, OR
Roseburge, OR
3
2
9
28
Chris Pierce Cottage Grove, OR
Cottage Grove, OR
7
3
12
7
Robert Bryant Oregon, OR
Oregon, OR
9
4
22
13
Barry Cannon Dexter, OR
Dexter, OR
18
5
8
45
Ryan Dickenson Oregon, OR
Oregon, OR
3
6
7
10
Stacy Bloom Cottage Grove, OR
Cottage Grove, OR
1
7
10
X17
Scarlett Drake Salem, OR
Salem, OR
3
8
16
22H
Kevin Hilgendorf Cottage Grove, OR
Cottage Grove, OR
8
9
19
10E
Zach Kintzley
10
10
20
46M
Eli Miller Oakland, OR
Oakland, OR
10
11
15
55M
Bruce Miller Eugene, OR
Eugene, OR
4
12
6
9
Jack Vicari Eugene, OR
Eugene, OR
-6
13
13
89
Jim Simmons Cottage Grove, OR
Cottage Grove, OR
-
14
17
77
Michael Huie Oregon, OR
Oregon, OR
3
15
21
25
Michael Kennerly Oregon, OR
Oregon, OR
6
16
14
17X
Trevor Burton Oregon, OR
Oregon, OR
-2
17
2
37
Burnie Bryant Sutherlin, OR
Sutherlin, OR
-15
18
3
69W
Brent Wells Oregon, OR
Oregon, OR
-15
19
5
18K
Kerry Cooper Cottage Grove, OR
Cottage Grove, OR
-14
20
1
13H
Shawn Hand Cottage Grove, OR
Cottage Grove, OR
-19
21
11
18
Jeremy Degroot Cottage Grove, OR
Cottage Grove, OR
-10
22
18
53
Cole Trissell Springfield, OR
Springfield, OR
-4