Witness some of the funnest, fastest and fiercest racing action at Cottage Grove.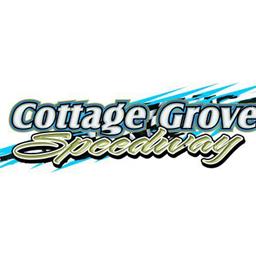 7/16/2022 - Cottage Grove Speedway
Cottage Grove, OR
CHRISTMAS IN JULY & THE RALPH BLOOM MEMORIAL - $10 GENERAL ADMISSION
Christmas is so much fun we are celebrating in July and our gift to you is $10 general admission! Lots of fun Christmas games, Christmas music, and the big guy himself! That's right, SANTA is coming to Cottage Grove Speedway!
In addition to Christmas in July this will be the largest IMCA Sportmod race of the year in honor of the very missed, Ralph Bloom.
Limited Sprints

6 entries

IMCA Modifieds

13 entries

IMCA SportMods

20 entries

Street Stocks

5 entries
Full Event Information on MyRacePass
Limited Sprints
Finish
Start
#
Competitor
Hometown
+/-
1
5
I1
Kinzer Cox Cottage Grove, OR
Cottage Grove, OR
4
2
6
26F
Shane Forte Junction City, OR
Junction City, OR
4
3
3
4M
David Marble Shady Cove, OR
Shady Cove, OR
-
4
2
07
Austin Sause Coos Bay, OR
Coos Bay, OR
-2
5
4
78
Ryan Hirschbock Klamath Falls, OR
Klamath Falls, OR
-1
6
1
32T
Gary Treadway Junction City, OR
Junction City, OR
-5
IMCA Modifieds
Finish
Start
#
Competitor
Hometown
+/-
1
2
33
Paul Rea Eugene, OR
Eugene, OR
1
2
7
5M
Jake Mayden Springfield, OR
Springfield, OR
5
3
3
16T
Curtis Towns Cottage Grove, OR
Cottage Grove, OR
-
4
6
11
Steven Sturdevant Springfield, OR
Springfield, OR
2
5
8
0
Duane Orsburn Hornbrook, CA
Hornbrook, CA
3
6
4
16M
Austin McTaggart Springfield, OR
Springfield, OR
-2
7
5
83R
Jeffrey Hudson Keno, OR
Keno, OR
-2
8
1
51
Roy Kirk Jr Marcola, OR
Marcola, OR
-7
9
13
86
Mike Green Dexter, OR
Dexter, OR
4
10
12
22J
Jake Ferguson Cottage Grove, OR
Cottage Grove, OR
2
11
10
73M
Dave Duste Jr. Central Point, OR
Central Point, OR
-1
12
11
4
Tim Meltibarger Oregon, OR
Oregon, OR
-1
13
9
54N
Nick Trenchard Klamath Falls, OR
Klamath Falls, OR
-4
IMCA SportMods
Finish
Start
#
Competitor
Hometown
+/-
1
1
33B
Hunter Bloom Eugene, OR
Eugene, OR
-
2
2
11
Trevor Points Salem, OR
Salem, OR
-
3
17
2M
Matt Sanders Brookings, OR
Brookings, OR
14
4
5
150
Justin Ryker Eugene, OR
Eugene, OR
1
5
11
01
Daniel Ray Springfield, OR
Springfield, OR
6
6
8
9
David Schmidt Roseburg, OR
Roseburg, OR
2
7
20
4
Kevin Williamson Coburg, OR
Coburg, OR
13
8
3
60J
Jordan Henry Roseburg, OR
Roseburg, OR
-5
9
4
33
Dalton Bloom Battle Ground, WA
Battle Ground, WA
-5
10
7
12I
Isaac Sanders Brookings, OR
Brookings, OR
-3
11
9
E3
Ray Bloom
-2
12
12
42
Chuck Carson Springfield, OR
Springfield, OR
-
13
14
333
Aaron Bloom Cottage Grove, OR
Cottage Grove, OR
1
14
10
5T
Theran Trissell Springfield, OR
Springfield, OR
-4
15
13
3
Garrett Craig Veneta, OR
Veneta, OR
-2
16
19
19
Madilynn Ashley Jasper, OR
Jasper, OR
3
17
18
98W
Mike Wilcox Roseburg, OR
Roseburg, OR
1
18
16
99C
Doug Coffman Roseburg, OR
Roseburg, OR
-2
19
6
43
Travis Pruitt Molalla, OR
Molalla, OR
-13
DNS
15
C4
Michael Hollingsworth Creswell, OR
Creswell, OR
-
Street Stocks
Finish
Start
#
Competitor
Hometown
+/-
1
3
17
Taunton Swaim Dexter, OR
Dexter, OR
2
2
5
111
Andrew Langan Jasper, OR
Jasper, OR
3
3
4
3
Dalton Bloom Battle Ground, WA
Battle Ground, WA
1
4
2
64
Eric Freeman Cottage Grove, OR
Cottage Grove, OR
-2
5
1
48M
Mike Swaim Dexter, OR
Dexter, OR
-4