Witness some of the funnest, fastest and fiercest racing action at Cottage Grove.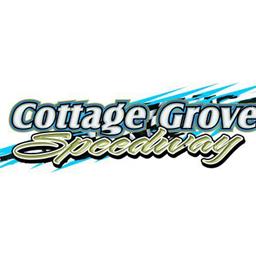 8/5/2022 - Cottage Grove Speedway
Cottage Grove, OR
MARK HOWARD MODIFIED NATIONALS NIGHT #1
The best Modifieds on the West Coast will be here for Night #1 featuring a full night of racing as well as the RACE OF CHAMPIONS, only the best of the best get to race this one!!
IMCA Modifieds

29 entries

IMCA SportMods

22 entries

Hardtops
Full Event Information on MyRacePass
IMCA Modifieds
Finish
Start
#
Competitor
Hometown
+/-
1
12
54N
Nick Trenchard Klamath Falls, OR
Klamath Falls, OR
11
2
4
27
Mark Carrell Redmond, OR
Redmond, OR
2
3
13
5M
Jake Mayden Springfield, OR
Springfield, OR
10
4
10
13
Bricen James Albany, OR
Albany, OR
6
5
9
S
Collen Winebarger Corbett, OR
Corbett, OR
4
6
8
28
Ian Whisler Otis, OR
Otis, OR
2
7
1
87
Chance Hyser Redmond, OR
Redmond, OR
-6
8
6
33
Paul Rea Eugene, OR
Eugene, OR
-2
9
15
12Y
Derick Young Hines, OR
Hines, OR
6
10
7
02
Braedon Hand Cottage Grove, OR
Cottage Grove, OR
-3
11
11
82
Eston Whisler Otis, OR
Otis, OR
-
12
17
36
John Campos Keizer, OR
Keizer, OR
5
13
3
73
Tyler Smith Cottage Grove, OR
Cottage Grove, OR
-10
14
19
5R
Robert Jenner Vancouver, WA
Vancouver, WA
5
15
14
77S
Jerry Schram Vancouver, WA
Vancouver, WA
-1
16
20
84
Eric Ashley Jasper, OR
Jasper, OR
4
17
16
47
Carter Patterson Lebanon, OR
Lebanon, OR
-1
18
2
16
Curtis Towns Cottage Grove, OR
Cottage Grove, OR
-16
19
18
15JT
Justin McCreadie Phoenix, OR
Phoenix, OR
-1
20
5
W5
Jesse Williamson Coburg, OR
Coburg, OR
-15
Finish
Start
#
Competitor
Hometown
+/-
1
3
36
John Campos Keizer, OR
Keizer, OR
2
2
8
15JT
Justin McCreadie Phoenix, OR
Phoenix, OR
6
3
4
47
Carter Patterson Lebanon, OR
Lebanon, OR
1
4
1
5R
Robert Jenner Vancouver, WA
Vancouver, WA
-3
5
12
25C
Chad Groves Bend, OR
Bend, OR
7
6
5
42
Paul Culp Creswell, OR
Creswell, OR
-1
7
9
16M
Austin McTaggart Springfield, OR
Springfield, OR
2
8
7
19W
Skyler Winebarger Corbett, OR
Corbett, OR
-1
9
2
58
Devon Reed Woodland, WA
Woodland, WA
-7
10
11
22K
Dwayne Klein Oregon, OR
Oregon, OR
1
11
6
51
Roy Kirk Jr Marcola, OR
Marcola, OR
-5
12
10
4TH
John Player Oregon, OR
Oregon, OR
-2
IMCA SportMods
Finish
Start
#
Competitor
Hometown
+/-
1
2
333
Aaron Bloom Cottage Grove, OR
Cottage Grove, OR
1
2
8
33B
Hunter Bloom Eugene, OR
Eugene, OR
6
3
3
E3
Ray Bloom
-
4
7
2M
Matt Sanders Brookings, OR
Brookings, OR
3
5
4
12I
Isaac Sanders Brookings, OR
Brookings, OR
-1
6
11
4
Kevin Williamson Coburg, OR
Coburg, OR
5
7
12
11
Trevor Points Salem, OR
Salem, OR
5
8
18
9
David Schmidt Roseburg, OR
Roseburg, OR
10
9
5
60J
Jordan Henry Roseburg, OR
Roseburg, OR
-4
10
13
3
Garrett Craig Veneta, OR
Veneta, OR
3
11
16
C4
Michael Hollingsworth Creswell, OR
Creswell, OR
5
12
20
71
Mitchell Jamieson Junction City, OR
Junction City, OR
8
13
21
19
Madilynn Ashley Jasper, OR
Jasper, OR
8
14
10
33
Dalton Bloom Battle Ground, WA
Battle Ground, WA
-4
15
1
34
Mark Gaylord Boring, OR
Boring, OR
-14
16
17
69
Kasi Comer Eugene, OR
Eugene, OR
1
17
6
21P
Ryan Peery Yreka, CA
Yreka, CA
-11
18
15
43
Travis Pruitt Molalla, OR
Molalla, OR
-3
19
9
01
Daniel Ray Springfield, OR
Springfield, OR
-10
20
14
217
Matt Brown Orange, CT
Orange, CT
-6
21
19
5T
Theran Trissell Springfield, OR
Springfield, OR
-2
22
22
150
Justin Ryker Eugene, OR
Eugene, OR
-