Witness some of the funnest, fastest and fiercest racing action at Cottage Grove.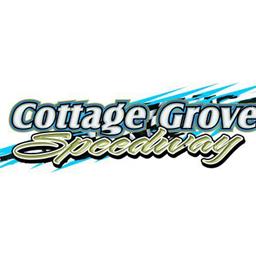 8/6/2022 - Cottage Grove Speedway
Cottage Grove, OR
MARK HOWARD MODIFIED NATIONALS FINALE
Join us as we crown this years Modified Nationals champion, who will take home the giant $2600.00 payout???? Be sure to be here to catch all of the action!
IMCA Modifieds

31 entries

IMCA SportMods

19 entries

Hardtops

5 entries
Full Event Information on MyRacePass
IMCA Modifieds
Finish
Start
#
Competitor
Hometown
+/-
1
3
13
Bricen James Albany, OR
Albany, OR
2
2
1
5M
Jake Mayden Springfield, OR
Springfield, OR
-1
3
5
54N
Nick Trenchard Klamath Falls, OR
Klamath Falls, OR
2
4
4
82
Eston Whisler Otis, OR
Otis, OR
-
5
12
W5
Jesse Williamson Coburg, OR
Coburg, OR
7
6
2
S
Collen Winebarger Corbett, OR
Corbett, OR
-4
7
10
27
Mark Carrell Redmond, OR
Redmond, OR
3
8
8
28
Ian Whisler Otis, OR
Otis, OR
-
9
7
12Y
Derick Young Hines, OR
Hines, OR
-2
10
13
15JT
Justin McCreadie Phoenix, OR
Phoenix, OR
3
11
15
42
Paul Culp Creswell, OR
Creswell, OR
4
12
18
16
Curtis Towns Cottage Grove, OR
Cottage Grove, OR
6
13
9
73
Tyler Smith Cottage Grove, OR
Cottage Grove, OR
-4
14
11
33
Paul Rea Eugene, OR
Eugene, OR
-3
15
19
47
Carter Patterson Lebanon, OR
Lebanon, OR
4
16
17
02
Braedon Hand Cottage Grove, OR
Cottage Grove, OR
1
17
20
16M
Austin McTaggart Springfield, OR
Springfield, OR
3
18
6
87
Chance Hyser Redmond, OR
Redmond, OR
-12
19
16
84
Eric Ashley Jasper, OR
Jasper, OR
-3
20
14
25C
Chad Groves Bend, OR
Bend, OR
-6
Finish
Start
#
Competitor
Hometown
+/-
1
2
02
Braedon Hand Cottage Grove, OR
Cottage Grove, OR
1
2
7
16
Curtis Towns Cottage Grove, OR
Cottage Grove, OR
5
3
5
47
Carter Patterson Lebanon, OR
Lebanon, OR
2
4
8
16M
Austin McTaggart Springfield, OR
Springfield, OR
4
5
14
36
John Campos Keizer, OR
Keizer, OR
9
6
4
77S
Jerry Schram Vancouver, WA
Vancouver, WA
-2
7
1
58
Devon Reed Woodland, WA
Woodland, WA
-6
8
9
75F
Kyle Fisher
1
9
3
4TH
John Player Oregon, OR
Oregon, OR
-6
10
10
51
Roy Kirk Jr Marcola, OR
Marcola, OR
-
11
11
22K
Dwayne Klein Oregon, OR
Oregon, OR
-
12
13
22J
Jake Ferguson Cottage Grove, OR
Cottage Grove, OR
1
13
6
19W
Skyler Winebarger Corbett, OR
Corbett, OR
-7
14
15
86
Mike Green Dexter, OR
Dexter, OR
1
DNS
12
5R
Robert Jenner Vancouver, WA
Vancouver, WA
-
IMCA SportMods
Finish
Start
#
Competitor
Hometown
+/-
1
8
2M
Matt Sanders Brookings, OR
Brookings, OR
7
2
9
E3
Ray Bloom
7
3
11
11
Trevor Points Salem, OR
Salem, OR
8
4
14
33
Dalton Bloom Battle Ground, WA
Battle Ground, WA
10
5
4
12I
Isaac Sanders Brookings, OR
Brookings, OR
-1
6
10
4
Kevin Williamson Coburg, OR
Coburg, OR
4
7
19
333
Aaron Bloom Cottage Grove, OR
Cottage Grove, OR
12
8
6
60J
Jordan Henry Roseburg, OR
Roseburg, OR
-2
9
5
01
Daniel Ray Springfield, OR
Springfield, OR
-4
10
7
W4
Ron Wilson Coburg, OR
Coburg, OR
-3
11
3
3
Garrett Craig Veneta, OR
Veneta, OR
-8
12
17
19
Madilynn Ashley Jasper, OR
Jasper, OR
5
13
12
33B
Hunter Bloom Eugene, OR
Eugene, OR
-1
14
13
C4
Michael Hollingsworth Creswell, OR
Creswell, OR
-1
15
2
71
Mitchell Jamieson Junction City, OR
Junction City, OR
-13
16
1
42
Chuck Carson Springfield, OR
Springfield, OR
-15
17
15
69
Kasi Comer Eugene, OR
Eugene, OR
-2
18
18
M80
Pat McLaughlin Eugene, OR
Eugene, OR
-
19
16
17
Steve Hulsey Oregon, OR
Oregon, OR
-3