Witness some of the funnest, fastest and fiercest racing action at Cottage Grove.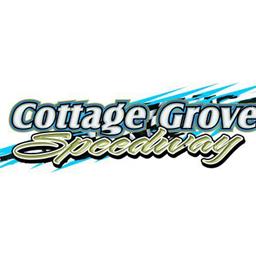 9/16/2022 - Cottage Grove Speedway
Cottage Grove, OR
DRIVER APPRECIATION NIGHT
For the first time ever all 7 classes will hit the track for the final weekend of racing! Be sure to make nice with your favorite drivers because they will have lots of free tickets to give away! Drivers that have raced at least 50% of their class's races will receive unlimited FREE general admission tickets, drivers that have races at least once with us this season will receive 10 free tickets! Get here early, this is gonna be one packed house!
360 Sprints

11 entries

Late Models

13 entries

Limited Sprints

8 entries

IMCA Modifieds

17 entries

IMCA SportMods

19 entries

Street Stocks

8 entries

IMCA Sport Compact

15 entries
Full Event Information on MyRacePass
360 Sprints
Finish
Start
#
Competitor
Hometown
+/-
1
5
18T
Tanner Holmes Jacksonville, OR
Jacksonville, OR
4
2
1
2L
Logan Forler Boise, ID
Boise, ID
-1
3
4
22X
Tyler Thompson Harrisburg, OR
Harrisburg, OR
1
4
2
12S
Steven Snawder Roseburg, OR
Roseburg, OR
-2
5
9
98H
Matt Hein Roseburg, OR
Roseburg, OR
4
6
8
22
Garen Linder Central Point, OR
Central Point, OR
2
7
3
33T
Tyler Driever Meridian, ID
Meridian, ID
-4
8
6
1K
Kinzer Cox Cottage Grove, OR
Cottage Grove, OR
-2
9
11
78
Don Trent Gaston, OR
Gaston, OR
2
10
10
34R
T.J. Richman Deer Island, OR
Deer Island, OR
-
11
7
33
Kyle Alberding Winston, OR
Winston, OR
-4
Late Models
Finish
Start
#
Competitor
Hometown
+/-
1
10
77
Preston Luckman Coos Bay, OR
Coos Bay, OR
9
2
8
82
Eston Whisler Otis, OR
Otis, OR
6
3
11
28
Jimmy Whisler Otis, OR
Otis, OR
8
4
12
7
Bryan Norton Stayton, OR
Stayton, OR
8
5
5
88F
Braden Fugate Bandon, OR
Bandon, OR
-
6
2
26S
Willie Sutton Bellfountain, OR
Bellfountain, OR
-4
7
4
422
Chuck Christian Eugene, OR
Eugene, OR
-3
8
6
13B
Randy Barley Albany, OR
Albany, OR
-2
9
7
44
Terry Sanders Oregon, OR
Oregon, OR
-2
10
1
16
Rob Williams Cottage Grove, OR
Cottage Grove, OR
-9
11
3
88
Mike Peters Cottage Grove, OR
Cottage Grove, OR
-8
12
9
08
Kye Frick Sweet Home, OR
Sweet Home, OR
-3
13
13
708
Kevin Hicks Creswell, OR
Creswell, OR
-
Limited Sprints
Finish
Start
#
Competitor
Hometown
+/-
1
2
21
Johnny Burke Medford, OR
Medford, OR
1
2
3
12
Steven Snawder Roseburg, OR
Roseburg, OR
1
3
6
I1
Tanner Holmes Jacksonville, OR
Jacksonville, OR
3
4
5
26F
Shane Forte Junction City, OR
Junction City, OR
1
5
1
4M
David Marble Shady Cove, OR
Shady Cove, OR
-4
6
7
93
Tim Minter Cottage Grove, OR
Cottage Grove, OR
1
7
4
10K
Don Waddell Roseburg, OR
Roseburg, OR
-3
8
8
32T
Gary Treadway Junction City, OR
Junction City, OR
-
IMCA Modifieds
Finish
Start
#
Competitor
Hometown
+/-
1
6
W5
Jesse Williamson Coburg, OR
Coburg, OR
5
2
10
13
Bricen James Albany, OR
Albany, OR
8
3
12
16P
Preston Luckman Coos Bay, OR
Coos Bay, OR
9
4
9
27
Mark Carrell Redmond, OR
Redmond, OR
5
5
1
42
Paul Culp Creswell, OR
Creswell, OR
-4
6
13
5M
Jake Mayden Springfield, OR
Springfield, OR
7
7
5
16
Curtis Towns Cottage Grove, OR
Cottage Grove, OR
-2
8
8
33
Paul Rea Eugene, OR
Eugene, OR
-
9
4
87
Chance Hyser Redmond, OR
Redmond, OR
-5
10
2
85
Ricky Ashley Thurston, OR
Thurston, OR
-8
11
17
F1
Monte Bischoff Medford, OR
Medford, OR
6
12
3
16M
Austin McTaggart Springfield, OR
Springfield, OR
-9
13
7
02
Braedon Hand Cottage Grove, OR
Cottage Grove, OR
-6
14
16
4TH
John Player Oregon, OR
Oregon, OR
2
15
15
73M
Dave Duste Jr. Central Point, OR
Central Point, OR
-
16
14
51
Roy Kirk Jr Marcola, OR
Marcola, OR
-2
17
11
4
Dustin Comer Springfield, OR
Springfield, OR
-6
IMCA SportMods
Finish
Start
#
Competitor
Hometown
+/-
1
6
33
Dalton Bloom Battle Ground, WA
Battle Ground, WA
5
2
10
2M
Matt Sanders Brookings, OR
Brookings, OR
8
3
3
7S
Steven Sanders Brookings, OR
Brookings, OR
-
4
4
60J
Jordan Henry Roseburg, OR
Roseburg, OR
-
5
19
01
Daniel Ray Springfield, OR
Springfield, OR
14
6
1
69
Kasi Comer Eugene, OR
Eugene, OR
-5
7
15
11
Trevor Points Salem, OR
Salem, OR
8
8
9
E3
Ray Bloom
1
9
7
33B
Hunter Bloom Eugene, OR
Eugene, OR
-2
10
14
150
Justin Ryker Eugene, OR
Eugene, OR
4
11
5
3
Garrett Craig Veneta, OR
Veneta, OR
-6
12
12
71
Lacee Jamieson Oregon, OR
Oregon, OR
-
13
13
61
Dean Prather Keizer, OR
Keizer, OR
-
14
8
4
Kevin Williamson Coburg, OR
Coburg, OR
-6
15
2
C4
Michael Hollingsworth Creswell, OR
Creswell, OR
-13
16
18
7AP
Joel Dean Pahrump, NV
Pahrump, NV
2
17
11
17
Mike Desilva Springfield, OR
Springfield, OR
-6
18
16
5T
Theran Trissell Springfield, OR
Springfield, OR
-2
DQ
17
03
Kevin Ropchan Veneta, OR
Veneta, OR
-
Street Stocks
Finish
Start
#
Competitor
Hometown
+/-
1
1
17
Taunton Swaim Dexter, OR
Dexter, OR
-
2
4
111
Andrew Langan Jasper, OR
Jasper, OR
2
3
6
3
Matthew Bloom
3
4
7
5
Brad Hicks Creswell, OR
Creswell, OR
3
5
3
1
Kelly McDonald Cottage Grove, OR
Cottage Grove, OR
-2
6
8
44
Willie Sutton Gresham, OR
Gresham, OR
2
7
2
4A
Adam Applebee Eugene, OR
Eugene, OR
-5
8
5
64
Eric Freeman Cottage Grove, OR
Cottage Grove, OR
-3
IMCA Sport Compact
Finish
Start
#
Competitor
Hometown
+/-
1
8
28
Chris Pierce Cottage Grove, OR
Cottage Grove, OR
7
2
7
37
Burnie Bryant Sutherlin, OR
Sutherlin, OR
5
3
1
22O
Dusten Henderson Cottage Grove, OR
Cottage Grove, OR
-2
4
2
13
Barry Cannon Dexter, OR
Dexter, OR
-2
5
5
18K
Kerry Cooper Cottage Grove, OR
Cottage Grove, OR
-
6
3
55M
Bruce Miller Eugene, OR
Eugene, OR
-3
7
10
B17
Scarlett Drake Salem, OR
Salem, OR
3
8
12
69W
Ray Comer Oregon, OR
Oregon, OR
4
9
13
10
Stacy Bloom Cottage Grove, OR
Cottage Grove, OR
4
10
4
75
Rich Dickenson Roseburge, OR
Roseburge, OR
-6
11
9
10E
Zach Kintzley
-2
12
11
18
Melissa Abston Oregon, OR
Oregon, OR
-1
13
14
89
Jim Simmons Cottage Grove, OR
Cottage Grove, OR
1
14
6
46M
Eli Miller Oakland, OR
Oakland, OR
-8
15
15
439
Tony Juaire Springfield, OR
Springfield, OR
-